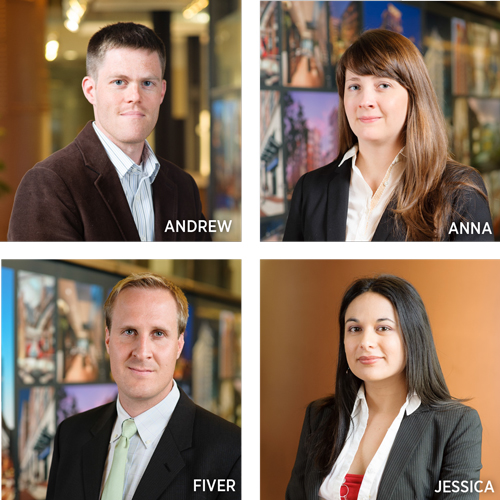 Baltimore, MD (December 8, 2016) – Design Collective Inc. is pleased to announce the promotion of four new Associates:
Andrew Persons, AIA
Andrew has been a valued employee at Design Collective for over nine years. He has been involved in many of the firm's most complex science, technology and laboratory projects, including several for the University of Maryland Baltimore. Andrew is presently working on University of Maryland Baltimore's Health Sciences Facility III, a state-of-the-art biomedical research facility designed to further elevate UMB's standing as one of the top research institutions in the country.
Anna Dennis, PLA, ASLA, LEED Green Associate
A landscape architect with over eleven years of experience, Anna has extensive experience in the design and construction of mixed-use development, streetscape and public open space design, as well as charrette-based master planning. Her portfolio features a variety of urban mixed-use, multi-family residential, traditional neighborhood, town center and student housing design. Anna is currently working on Eastside Bond, a major transit-oriented mixed-use development in Pittsburgh, Pa.
Fiver Soraruf, AIA, LEED AP
An architect with over nine years of experience, Fiver received his Bachelor of Arts degree in Architectural Studies and Art History from Hobart and William Smith and his Master of Architecture degree from University of Maryland College Park. Currently, Fiver is working on several major mixed-use projects in the Washington Metro area, including Ripley East and The Blairs – Blocks F1 and F2 – in Silver Spring, MD.
Jessica Pagan-Aello, AIA, NCARB
Jessica is a registered architect with over seven years of professional experience at Design Collective. Jessica has worked on some of the firm's most notable mixed-use student housing projects, including Westside Hall at University of New Haven and Nine East 33rd for Johns Hopkins University. Jessica is now working on the expansive New Housing Village for the University of South Florida in Tampa and The New Cultural Center, a mixed-use arts community in Columbia, MD.
Release courtesy Design Collective, Inc.