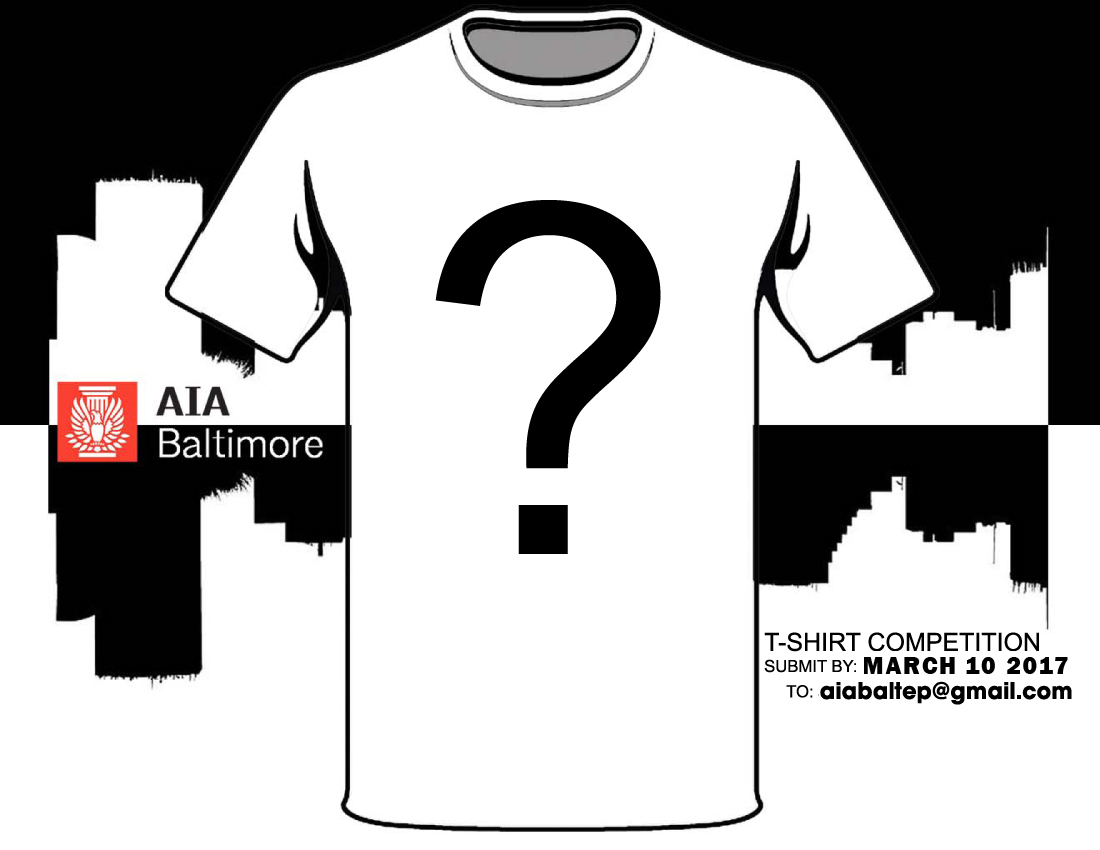 Submission Deadline: March 10th 2017
Eligibility: Free and open to all
The AIABaltimore Emerging Professionals are hosting a T-shirt design contest with the theme "Baltimore Architecture" to celebrate the cities great buildings and design.  Your design can reflect on an architecture experience, feature, past or current buildings and destinations, or show off your creativity with an architecture themed design.  Competition entry is free!
Technical Criteria
The T-shirt design is for front of shirt only (see below). Your Design should be graphically pleasing and communicate "Baltimore Architecture."
Submissions must be on the 8.5" x 11" jpeg, pdf, or tiff format. DOWNLOAD TEMPLATE (300 dpi with digital file size of 5MB or less). Landscape orientation.
Select one (1) t-shirt color: Red, White, or Black.
Select up to 2 ink colors for your design on the front of the t-shirt. No collar and/or sleeve designs are allowed.
Must include the words "Baltimore Architecture" on the front of the t-shirt. Any additional text used in the design must be presented in English.
Designs should be original works. Graphics, photographs, and 2D artwork not produced by the entrant(s) must be authorized for use (documentation of authorization must accompany your submission).
The design should be submitted to aiabaltep@gmail.com accompanied with identifying and contact information of the designer (individual or teams) in the email. Please include your First Initial and Last Name in the file names of all attachments.  Mail Subject Line: "T-Shirt Entry"
Judging Criteria
Clarity and significance of message, effectiveness of attracting attention, and artistic merit. The Jury reserves the right to request the winner tmake minor adjustments to the design prior to manufacturing.
Agreement
All entries become the property of the AIABaltimore/BAF. And all rights to reproduce belong to AIABaltimore.
The winning submission entrant(s) will receive a FREE T-SHIRT in their preferred size and recognition via announcement through the AIA Baltimore Newsletter and social media outlets.
For more information, please e-mail aiabaltep@gmail.com