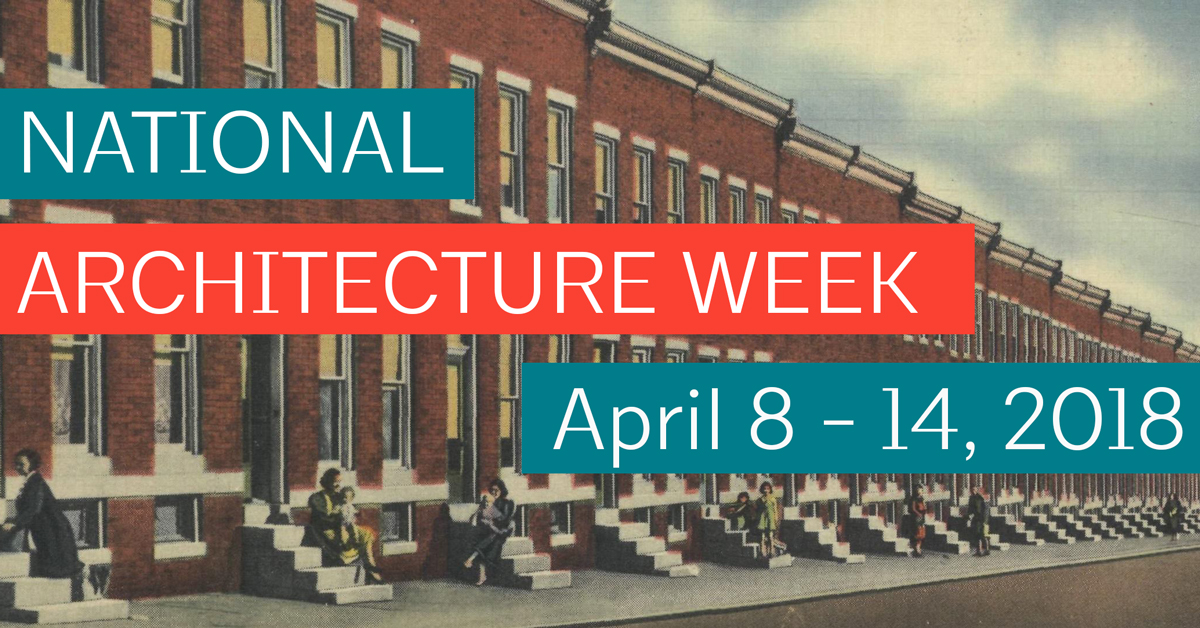 National Architecture Week is April 8 – 14, in celebration of Thomas Jefferson's birthday, which is April 13th. While not educated as an architect, Jefferson is the only U.S. president to be recognized for his architectural affinity.
Check out architecture related events happening around Baltimore. Also, mark your calendar for Baltimore Architecture Month in October, including the keystone event, Doors Open Baltimore on October 6-7.
Weekdays | Organizer AIA Baltimore
See project boards of winning entries to the 2017 AIA Baltimore Excellence in Design Awards at City Hall, open weekdays.
---
Weekdays @ 9:00 am – 5:00 pm | Organizer: AIA Baltimore
Each city has its own unique footprint on Earth. City footprints are expressed as city maps, which are abstractions of reality. View "City Map Abstractions" a gallery exhibit by Robert Tennenbaum, FAIA.
---
POSTPONED UNTIL FALL 2018
Alex Garvin of Yale University and Charlie Duff of Jubilee Baltimore and past-president of the Baltimore Architecture Foundation will speak on the topic "What Makes a Great City?"
---
Wednesday, April 11 @  6:30 – 8:30 pm| Organizer: Evergreen Museum & Library
Visit the historic Evergreen Museum & Library for the kick-off of the House Beautiful Lecture Series.  Learn about the legacy of noted early 20th-century architect Laurence Hall Fowler with Amy Kimball, Materials Manager of Special Collections at The Sheridan Libraries.
---
Thursday, April 12 @ 5:00 – 7:00 pm | Organizer: Greater Baltimore History Alliance (GBHA)
Join the Greater Baltimore History Alliance for food, drinks, and jazz from the Baltimore Jazz Alliance as we celebrate and support Baltimore's history museums!
---
Saturday, April 14 | Organizer: The Peale Center
Moving Walls is an experimental dance piece that examines human experience in relation to architecture. Combining movement with sculpture, animation, and sound, the piece is a collaborative project that questions our concepts of stability.
---
Saturday, April 14 @ 10:30 – 11:30 am | Organizer: Baltimore Heritage
During the tour, you will visit Faidley's, Berger's, Konstant's Candy, and other vendors that have been in their stall for a century or more. Youwill also explore the catacombs under the marketplace.
---
Saturday, April 14 @ 2:00 pm| Organizer: Mount Clare Museum House
Come learn about the history and changes to Mount Clare's architecture and grounds!  See where Margaret's terraced gardens were and the last remains of Baltimore's colonial road.  Learn about the changing outward appearance of the house and much more!