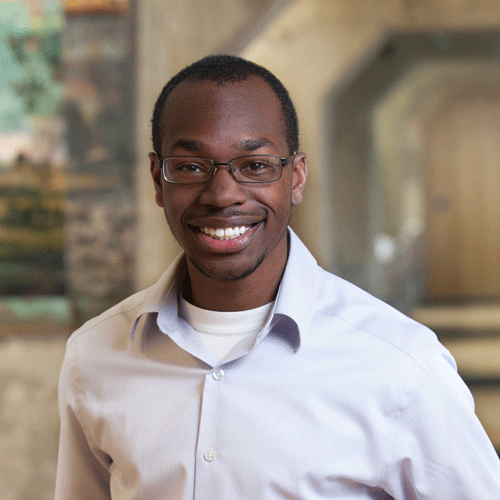 Beresford Pratt was born and raised in Gaithersburg, MD and graduated from Penn State with a Bachelors of Architecture in 2014. He is currently working as a practicing architect at Ayers Saint Gross and was recently selected to be the next AIA Young Architects Regional Director (YARD) for the Mid-Atlantic in the AIA Young Architects Forum for a two-year term, 2019-2021.
Beresford found his affection for architecture and design in a Junior High technical education course and competition after designing a balsa wood bridge that needed to withstand a CO2 compression test. Although his design was among the strongest bridges, he found his passion in the design process and fabrication. "I was slated to be a Civil Engineer if I didn't come to this realization that I relish opportunities to work with my hands: sketching, modeling, etc." This became clear in high school woodworking electives where Beresford has fond memories of designing a walnut and oak checker board set. The high point for him was not the final product itself, but rather the joy of watching his peers and faculty engage with something he had designed. He was encouraged by faculty to take an architectural wood model making course, which graduated to CAD courses and ultimately to multiple self-designed curriculums in architectural design (after exhausting all the programs the school/district had to offer).
At Penn State, Beresford felt challenged as a student to create designs that cross pollinated social engagement, material science and technology. He enjoyed teaching 'Digital Beehive' courses (a peer guided tutoring program for the College of Arts & Architecture) on visualization and 'Building Information Management' (BIM) software. This became a natural transition for opportunities in his professional career as an Architect at Ayers Saint Gross. He is currently a BIM manager for a large housing and dining project for the University of Maryland College Park that will hold 900 beds and prepare over 1,000 meals a day. Beresford has worked on projects like the Sagamore Rye Whiskey Distillery, DSU Housing and Dining project, Point Street Apartments and more.
Beresford joined the AIA Baltimore Emerging Professionals Committee in 2017. During that time, he has participated in EP events, helped with event award design and fabrication, and created a digital log to connect ARE test takers within the community to one another. He became a registered architect in the state of Maryland in January of 2018, after passing all 7 of his architecture registration exams and completing over 5,000 AXP hours. When the opportunity to step into a regional position arose, Beresford applied and was selected to become the next AIA Young Architects Regional Director (YARD) for the Mid-Atlantic (MARC) in the AIA Young Architects Forum. Beresford is very excited for this new chapter and the opportunity to make an impact through advocacy for young architects/ emerging professionals regionally (Baltimore, DC, Potomac Valley, & Chesapeake Bay) and nationally.