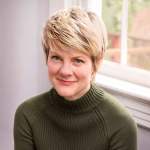 March was busy, but April is jam-packed.
This past month AIA National held its annual Capitol Hill Day in Washington DC. This event was exceptional for me. The day felt like a much-needed shot of positivity and optimism. Over 600 AIA members from around the nation convened in the Capitol to advocate, including encouraging the use of energy efficient technologies to be part of renovation and retrofits to existing buildings through direct legislation and an amended federal tax code. In addition, members advocated for the creation of a federal clearinghouse for school design best practices and for making design services eligible for federal grand funding.
Following the AIA's lead, it is vital that we strive for sustainable development and peace and human security. To that end, our Executive Director Kathleen Lane and I attended Downtown Baltimore's State of Downtown event where the focus was on securing a robust business and retail sector in Baltimore City's business district. This focus on our city and how its trajectory impacts our members informs our chapter's priorities.
March came in like a roaring, AIA lion and it went out not like a lamb, but like an AIA Baltimore lion with our annual BAF and AIA Baltimore Fellows Dinner event. This year's annual party honored its founders, Leon Bridges, FAIA and Walter Schamu, FAIA, and fundraised for the Fellows Leadership Award, a tuition scholarship bestowed annually to three undergraduate architecture students at Morgan State's School of Architecture and Planning who demonstrate ability and potential to become AIA leaders in their professional careers.
While March was an action-filled, consequential month, April is set to be full of celebration. There is an art opening at the Chapter House Gallery on the 4th, a Hard Hat Tour on the 16th, Chef Night on the 24th  (my personal favorite), the 3rd lecture of the Spring Lecture Series is on the 25th, and at the end of the month on Saturday, April 27th AIA Baltimore hosts two events: the Hands-On Masonry Workshop and the Baltimore Greenways Bike Tour. Whew!
That's a lineup to look forward to.


Suzanne Frasier, FAIA
Morgan State University School of Architecture + Planning