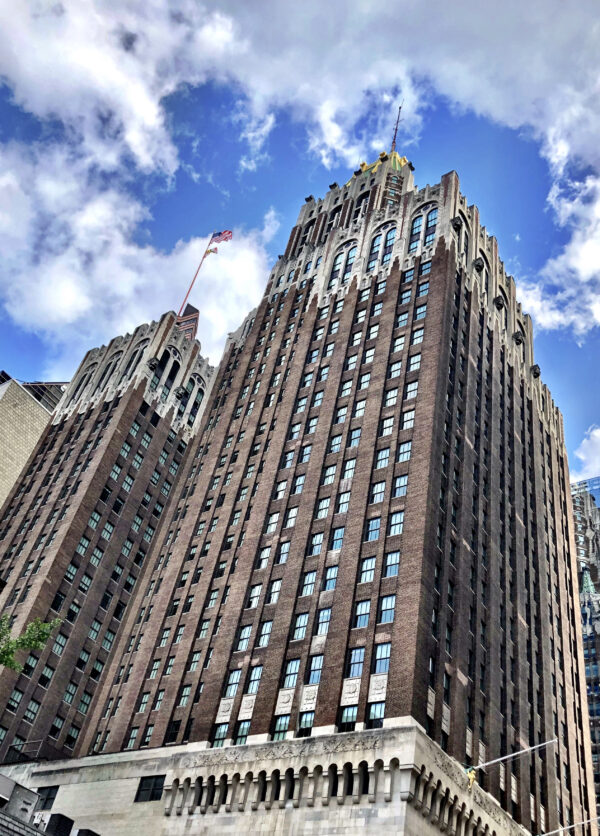 Dear Bank of America Building,
My name is Carolyn, I'm 76 years old and have had a crush on you since I was a little kid. The first time I saw you from the window of my bedroom, I thought you were a toaster in the sky. Now let me explain, it was the '40's and toasters had a trapezoid shape similar to your beautiful glowing copper & gold crown. It would be decades before I would see your body and eventually capture your loveliness with my camera.
A couple of years ago I came upon you quite by accident. Driving east on Baltimore Street, I looked up, and there you were almost in your entirety, and I knew I had to see more. I parked my car and headed in your direction. There was a nearby bus stop and I found myself talking to strangers there about you, how I saw you as a child, and have always wanted to see you up close like this. There were others who were equally charmed by you. One person said she actually worked inside you and you have a swimming pool on one of the upper levels!
A couple of weeks later I returned and went inside where a very nice person allowed me to snap pics of your lobby! I cannot describe my joy. You are even more magnificent than I could have imagined and I felt a genuine bond with you. I've carried this torch for you most of my life and meeting you did not disappoint. That day I parked my car on Baltimore Street, I got a $300 parking ticket. Still, no regrets! I don't know what the future holds for us, but I take comfort in knowing you are still there and I will see you again when restrictions imposed by the current coronavirus are lifted. In the meantime, stay strong and tall and safe.
Love you,
Carolyn
Carolyn Bowman Brown is a retiree of the Federal Government after 37 years of service and spends most of her time playing at amateur photography and gardening. Her favorite shareable activity is on Instagram and you can find her at Instagram.com/cajoy.