We are pleased to announce that AIA Baltimore's 57th Annual Excellence in Design Awards Celebration will take place virtually in 2020. In response to COVID-19, we are structuring this year's Celebration as a virtual program. This will allow us to successfully host the event, and presents a great opportunity to further celebrate the work of our members, reach new audiences, and develop meaningful content that will last beyond a single night. You will notice the 2020 sponsor opportunity levels have changed to reflect the new format with added value and greater benefits.
This event is an opportunity to gather with 300+ members of the design and construction industry for networking, recognition of outstanding design projects and to appreciate the important role of design in our built environment and its importance to businesses, institutions, and communities.
Please consider sponsoring this annual event; by doing so, you are not only supporting AIA Baltimore but the architecture profession and our outstanding local design talent.  We encourage you to sign up early to maximize your exposure and enhance your visibility as we begin promoting this event.
Interested in sponsorship? See our sponsor levels and sign up here!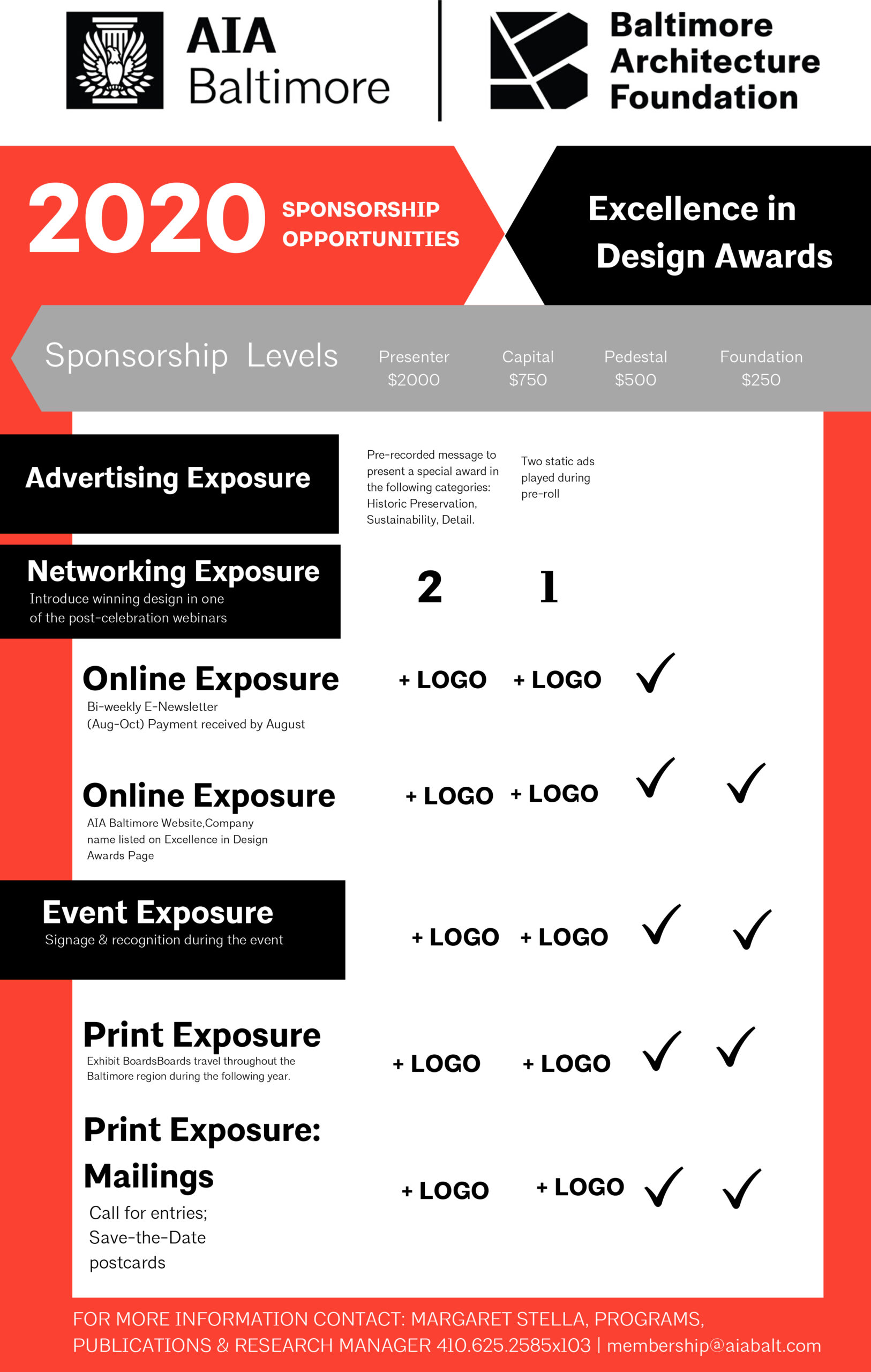 Separate from AIA Baltimore's Celebration, we, along with the other chapters in Maryland (AIA Maryland, AIA Chesapeake Bay, and AIA Potomac Valley) are collaborating to produce an online Digital Design Gallery with the award winners of each chapter. This initiative will elevate the profile of architectural design by attracting a larger audience to our winning projects, over a longer period of time (through Fall 2021), thereby offering a valuable marketing and public relations opportunity for our members and their clients.
For more information on sponsorship at the state level, please contact Margarete Stella at mstella@aiabalt.com