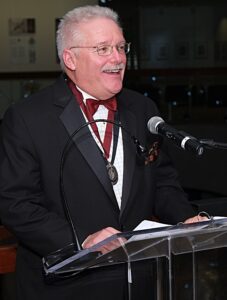 John W. Hill FAIA
1930 – 2020
In the Professional Careers Class on Entrepreneurship and Leadership I teach at the University of Maryland, I lead a discussion that one's life is graphically depicted on a grave headstone as "the dash" between the date of birth and death, and the absurdity that an entire lifetime can be summarized by one simple character.
There is so much more to one's life than is shown between those two moments. John Hill's dash is a full one.
I met John 47 years ago after I received my letter of acceptance into the School of Architecture on July 17, 1973, and visited the campus to accept enrollment. I wanted to meet John to confirm the letter was authentic because his signature was "rubber stamped". Our meeting made a memorable first impression on me.
Following his architectural education at Rice University and the University of Pennsylvania, John was on the faculty at the University of Kentucky. He brought a diverse background of life experiences and culture to the University of Maryland as the founding dean in 1967.
Serving this role for fifteen years, John was the longest serving dean in the school's history.  He summarized the many accomplishments of the school and alumni in his book entitled "The Foundation Years: Recollections of the Beginning Years of the School of Architecture, University of Maryland 1967-1982". John documented the determination of the school's mission, the beginnings and coming of age of the program over time and the story of the new architecture building, the school's accreditation, and the first graduates.  
Under his leadership, the School gained NAAB accreditation in five years.  For that, amongst many other accomplishments, John was elevated to Fellow in the American Institute of Architects in 1979 sponsored by AIA Baltimore and Alex Cochran FAIA.
Many of the hundreds of students that studied during his administration became very successful practitioners not only in the Baltimore/Washington/Maryland/Virginia area, but around the world because of his leadership skills and style in creating the School's Foundation. John was also influential in bringing such notable architects as Lou Kahn, Charles Moore, Paul Rudolph, and Michael Graves to teach at the school as Kea Distinguished Professors.
So, I write this memory of John W. Hill's dash, not as a son, brother, or colleague, but from a former student's perspective.  John taught me a great deal just through his example as a role model.  I was blessed to have him "rubber stamp" me into the School of Architecture at the beginning of my career, be a studio crit, agree to be my thesis sponsor, and attend my Investiture as Chancellor of the AIA College of Fellows completing a full circle of professional life.
What I learned from John was that being confident and well-attired were variables essential to memorable professional success.  He taught me that in addition to the importance of a design's subject matter and content, it was one's character and thoughtful considerations that create lasting impact.
My memories of John are of the consummate thoughtful, quietly well-spoken professional.  He was a compelling presence no matter where the room.  He was also one of those who never seemed to visually age.  His face had that youthful exuberance.
But no matter whatever John's age, his dash was quite accomplished and pertinent.  He touched so many lives in a decent, gentlemanly way.  I will always remember him with that proud boyish smile of knowing that he influenced the quality of life, and of architecture in our community.
God bless John W. Hill FAIA.