Greetings, Members of AIA Baltimore!
In recent days, we've heard the news of eased masking and gathering restrictions and guidance. It comes as vaccination rates have improved, local cases of the virus have decreased, and the warm spring weather has allowed for an increase in outdoor activities. It's progress like this that many of us have been patiently and prudently waiting for and a big step forward. We're all eager to follow whatever advice is out there that validates our desire for fewer restrictions and a return to a more casual existence.
As we shift to more of a "planning to return" versus "reacting to change" mentality, our communities, firms and families are beginning to develop strategies to reinstate safe versions of our previous lives. "Return to Work" surveys abound. Revised social gathering guidelines appear daily. "What's your vaccination status?" has become a new opening line to conversations. Important and constructive dialogues take place in all of our various circles, as we begin to re-engage in our social and work lives.
A task force of AIA Baltimore and the Baltimore Architecture Foundation recently reviewed the results of a survey regarding the return to in-person activities. We wanted to gauge our members' interest and concerns with respect to holding events at The Center for Architecture and Design. While we're still overseeing the completion of some lingering punchlist items, what The Center is missing most at this point is YOU and we want to see you there and let you experience this wonderful new home for us. It's important, however, that we move cautiously in the direction of in-person events, out of respect for those who are still uneasy, who may not have been able or willing to receive a vaccine yet, or who have other reasons for maintaining the current status quo. We appreciate the feedback received and will likely be asking for it again, as CDC, State, and City guidelines continue to evolve.
Stay healthy and strong. And get your vaccine!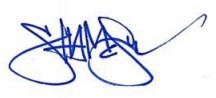 Scott A. McGovern, AIA – 2021 President – AIA Baltimore