Students and Faculty from Morgan State University, School of Architecture (MSU SA+P) are resuming the Spring trip to Rotterdam! This educational travel exchange program is part of an ongoing collaboration between MSU SA+P Professor Cristina Murphy and the Rotterdam Academy of Architecture and Urban Design (RAvB) that began in 2019 with the goal of hosting an exchange each year.
The trip, taking place between March 12-19, 2023, includes visits to architecture and urban design offices (e.g. OMA, MVRDV, …), architecture schools (lectures and workshops), tours (Rotterdam and Amsterdam). Experiential travel education offers an impactful opportunity for students to gain global understanding and exchange ideas about architectural design, planning, resiliency, and sustainability.
We invite you to become a Sponsor to help cover travel costs for the students and faculty. Sponsors have an opportunity to extend their trip beyond March 12-19 and visit more cities, such as Utrecht, Delft, Antwerp and Brussels.
The goal is to raise at least $15,000! For more information and to sponsor, visit the website (https://baltimoresistercities.org/architecturetrip2023/) or contact Baltimore-Rotterdam Sister City Committee (committee@baltimorerotterdam.org).  Sponsors also have an opportunity to join the trip.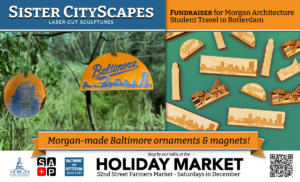 Students and faculty are already working to raise funds for their trip: please visit 32nd Street Farmers Market (Waverly neighborhood) every Saturday in December until Christmas from 7am-12pm.