This three-part, virtual lecture series will explore different facets of Evergreen Museum & Library's exterior, shedding light on how the house and its grounds changed over the course of a century. Originally constructed in 1858, the home was occupied by two generations of the wealthy Garrett family between 1878 and 1952. During its near 100 years as a private residence, the house expanded in size and scope to accommodate the needs of its residents and changing tastes in architectural and landscape design. Using photos and architectural drawings, these virtual presentations will explore those changes, the reasons for them, and their impact on the exterior aesthetics of Evergreen.
Part II – An Ever-Expanding Evergreen
Lori Finkelstein, the Philip Franklin Wagley Director & Curator of Evergreen Museum & Library, will examine the myriad expansions to Evergreen made between the early 1880s and early 1900s by the first generation of Garretts to occupy the house. Many of the "Victorian" changes were intended to support both the growing number of workers on the premises and the growing number of objects acquired by Evergreen's owner, T. Harrison Garrett (1849-1888). Highlights will include the North Wing and porte cochère, the two-story entryway, and the famous Gold Bathroom.
This event will be presented on Zoom.
Please, join us for Part I: Historic Gardens and Grounds, on July 7th and for Part III: Evergreen in the 20th Century on July 21st.
MEET OUR SPEAKER
Lori Beth Finkelstein, Ph.D., Philip Franklin Wagley Director & Curator of Evergreen Museum & Library, Johns Hopkins University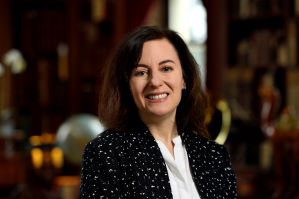 Lori Beth Finkelstein, Ph.D., is the Philip Franklin Wagley Director & Curator of Evergreen Museum & Library. Dr. Finkelstein received both her M.A. and her Ph.D. in U.S. History from New York University, and her B.A. in North American Studies from McGill University in Montreal, Canada. She came to Evergreen in the spring of 2019 after a long career as a museum educator and curator at institutions including Mt. Vernon Hotel Museum & Garden in New York City, the Baltimore Museum of Industry, and the Maryland Zoo in Baltimore, where she was the Vice President of Education, Interpretation, and Volunteer Programs from 2010 to 2019. Throughout her career in museums, Dr. Finkelstein has kept one foot in the classroom, teaching in Johns Hopkins' undergraduate Program in Museums and Society and providing curricular support for the university's online Master of Arts Program in Museum Studies. In addition, she has taught courses as an adjunct professor at Stevenson University and Seton Hall University.