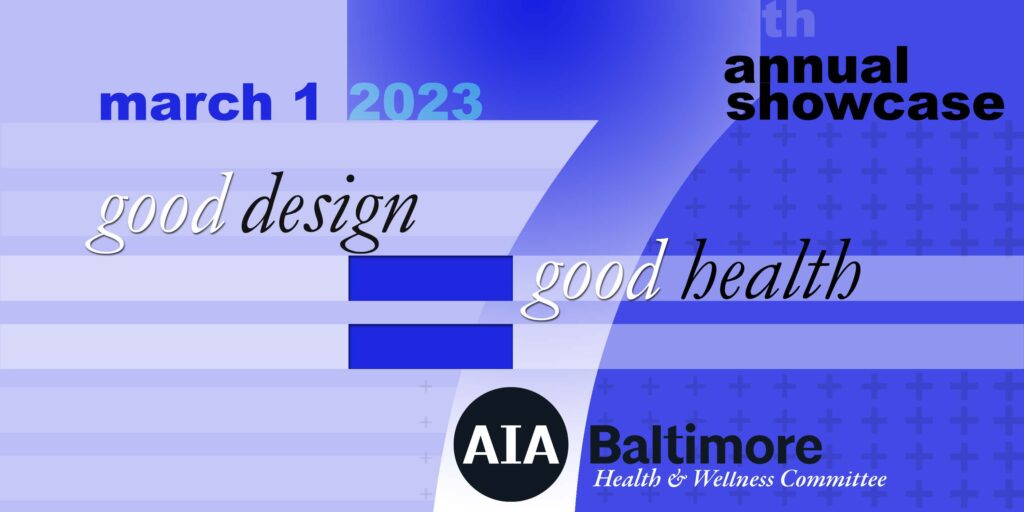 The AIA Baltimore Health & Wellness Committee will be hosting its 7th Annual Design Showcase- Good Design=Good Health on Wednesday, March 1st, 2023 from 6-8 PM. This exhibition is intended to be a fun way for architects, engineers, urban planners, interior designers, contractors, and others to show the local community how they have been creating healthy spaces. The goal of this exhibition is to showcase designs that promote health and wellness in a variety of ways.
The theme of the showcase, Good Design=Good Health, paints a broad stroke of healthy design. Cities and communities that foster healthy living, mental well-being and social connectedness don't just happen. It takes forward thinking and innovative designers to create spaces that elevate a community's way of life. For our showcase, we are encouraging architects, engineers, general contractors, landscape architects, urban planners, and artists to submit projects and designs that broadly speak to community health. From the urban planner who designed new bike lane routes throughout the city, to the landscape architect's healing garden for children, to the contractors bringing the adaptive reuse vision to life, to the architect's design of community schools bringing to life one's vision of academics and healthcare access coming together under one roof- everyone brings their own idea of a healthy environment and how to create it.
What you can look forward to: The AIA Baltimore Health & Wellness Committee is interested in bringing members of the design community together with a forum to showcase their designs with peers, while also being afforded the opportunity to observe the creative work of others. On this night we will come together to celebrate our successes, share best practices, strategize solutions, and discuss adaptation.
Heavy hors d'oeuvres, beer, and wine will be provided.
1.5 AIA LU|HSW and ASLA LACES approved
Register here as an attendee and learn more about presenting.