Architecture is a manifestation of culture. On the occasion of AIA Baltimore's 150th anniversary, the AIA Baltimore and Baltimore Architecture Foundation 2021 Lecture Series will explore how the built environment simultaneously reflects and influences culture, in Baltimore and beyond.  Each lecture will expose how cultural values shape design. The three lectures are focused around themes with specific local resonance in Baltimore, a city in which the arts and culture are key to community identity, history, and future vitality: Architecture and Identity, Art and Architecture, Architecture and Social Justice. Visiting and local speakers will examine and highlight the built environment and its relationship with the arts, community initiatives, sustainability goals, preservation, equity, the vernacular, and more, as we reflect on how these have been shaped by design practice throughout AIA Baltimore's 150 year history. View The 2021 Lecture Series Press Release.
---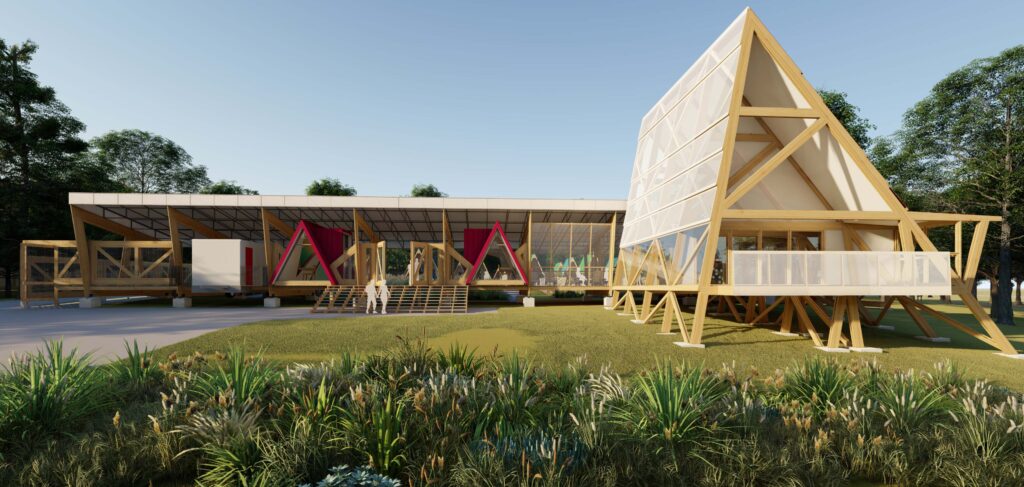 New Beginnings Homeless Transition Village Fayetteville, UACDC, Courtesy of The University of Arkansas Community Design Center
March 10 – 6:00 PM | Lecture One
Architecture, Identity, & Place 
The lecture will explore the overall theme and how architecture and the built environment are directly influenced by cultural values. It will examine this through the lens of community-based design initiatives nationally, and planning specific to Baltimore.
Speakers:
Stephen Luoni, Assoc. AIA, University  of  Arkansas Community Design Center
Stephen Luoni is director of the University of Arkansas Community Design Center (UACDC), an outreach program of the Fay Jones School of Architecture and Design. Luoni is the Steven L. Anderson Chair in Architecture and Urban Studies and a Distinguished Professor of architecture. Under his direction since 2003, UACDC's design and research have received more than 100 awards, including three Progressive Architecture Awards, 11 American Institute of Architects Honors Awards for Regional and Urban Design, Charter Awards from the Congress for the New Urbanism, American Society of Landscape Architecture Awards, Environmental Design Research Association Awards, American Architecture Awards and a Holcim Award, all for urban design, research, and education.
Becky Slogeris, MICA Social Design
Becky Slogeris is currently the Associate Director of the Center for Social Design at MICA, where she leads projects that bring students together with local non-profits, private institutions, and public agencies to advance equity and social justice through design. She designs with people in mind—from high school students to teachers, city residents to government employees, physicians to caregivers of kids with asthma—to make schools, clinics, neighborhoods, and cities better and more equitable places. Becky uses human-centered design to engage people in creating the places, products, and services that make them happy and healthy.
Quinton Batts & Vilde Ulset are Associates at MICA's Center for Social Design and graduates of the MA in Social Design program. As leads of the Center's Made You Look initiative in collaboration with the Maryland Department of Transportation (MDOT) Highway Safety Office, they work to equip communities with the tools needed to create safer places for pedestrians and bicyclists.
1.5 AIA LU, 1.5 LACES LU and APA CE
---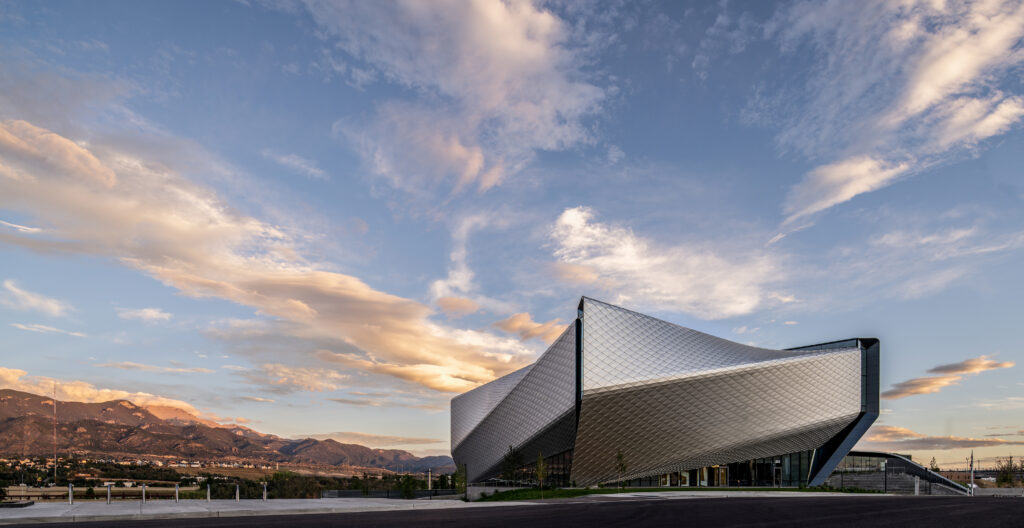 Museum of Image and Sound, Rio de Janeiro, Courtesy of Diller Scofidio + Renfro
March 31- 6:00 PM | Lecture two
Art + Architecture
This lecture will address the intersection of the arts, culture, and architecture, and the ways in which architecture and the built environment are influenced by cultural values. Speakers will discuss globally renowned cultural projects and museums, and local art and culture in Baltimore.
Speakers:
Benjamin Gilmartin, AIA, Diller Scofidio + Renfro
Benjamin Gilmartin joined Diller Scofidio + Renfro (DS+R) in 2004 and became a partner in 2015. Ben led the redesign of Alice Tully Hall, multiple public spaces within the Lincoln Center for the Performing Arts campus, and the Berkeley Art Museum and Pacific Film Archive at the University of California, Berkeley. Most recently, Ben completed the United States Olympic & Paralympic Museum in Colorado Springs, hailed as one of the most accessible museums in the country, and is leading the design of the adjoining Southwest Downtown Pedestrian Bridge, a 250-foot floating curved steel structure scheduled to open this summer. In addition to recently completing DS+R's first building in Australia at the University of Sydney, Ben is also currently co-leading the design of a facility for MIT's School of Architecture and Planning in Cambridge and a major tech headquarters in the Pacific Northwest.
Cara Ober, BMoreArt
Cara Ober writes about Baltimore's unique cultural landscape from the perspective of an artist and feminist. She approaches all kinds of cultural production from a constructive and critical perspective informed by material and pop culture, history, social movements, and politics. Over the past decade, Ober's critical reviews, essays, and interviews have explored the political and economic impact of the arts in Baltimore and the way artists maintain a professional practice and thrive in a city full of rich and diverse cultural traditions as well as serious social issues.
1.5 AIA LU, 1.5 LACES LU (Pending) and APA CE
---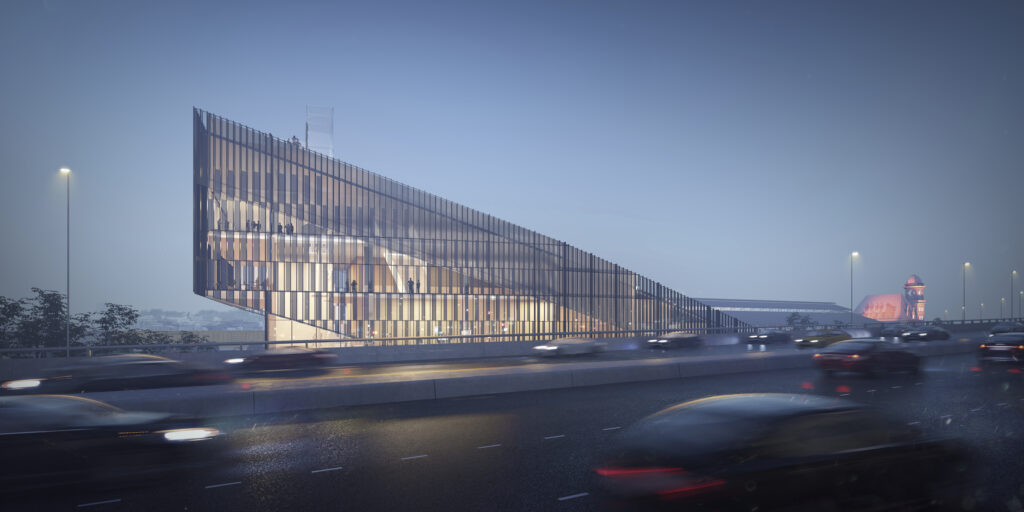 National Slavery Museum at the Lumpkin's Slave Jail, Courtesy of SmithGroup
April 21 – 6:00 PM | Lecture Three
Architecture & Social Justice
Lecturers will speak about designing for social justice in urban and landscape projects. Social justice issues and a history of redlining in the planning of Baltimore will be examined and solutions for improving the equity of the built environment
Speakers:
Dayton Schroeter, AIA, SmithGroup, Design Principal
Dayton is a Design Principal who has championed design justice advocacy throughout his career at SmithGroup. As a leader of the firm's Justice, Equity, Diversity and Inclusion Committee, his charge is to lead design projects that address the systemic injustice that architecture and planning have perpetuated for historically disenfranchised communities of color. Leveraging his tenacious passion for design justice with authenticity and creativity, he is currently leading antiracism efforts in design projects including an installation called Society's Cage that sheds national awareness of the intersectional effects of racism on our society's collective health, safety and welfare, as well as Lumpkin's Slave Jail, also known as the "Devil's Half Acre," an interpretive museum in Richmond, Virginia.
Maisie Hughes, ASLA, APA
The Urban Studio
Co-Founder + Treasurer, Urban Planner | Landscape Architect | Certified Arborist
Maisie brings decades of leadership and management to her practice. As a 2018-2019 Leadership and Innovation Fellow with the Landscape Architecture Foundation, she brings honest and unvarnished insights to provide a framework for people-centered design. Maisie won the National Capital Area Chapter of the American Planning Association 2016 Fredrick Gutheim Award for Distinguished Leadership by a Professional Planner and the 2014 Award of Merrit for the "Citizen Advocate Handbook".  Maisie is an ISA Certified Arborist, with an Executive Certificate in Nonprofit Management from Georgetown University, a Master of Landscape Architecture degree from Morgan State University, and a Bachelor of Arts degree in Afro-American studies from Howard University.
1.5 AIA LU, 1.5 LACES LU 
---

Lunchtime Lecture Dates: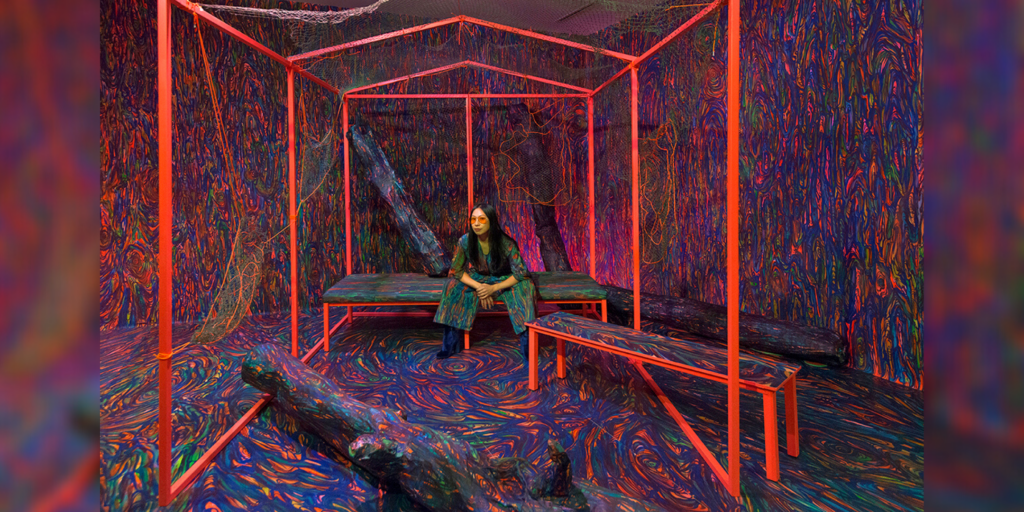 March 17 – 12:00 PM: Phaan Howng, Artist 
Phaan Howng's work centers around various narratives and landscapes that show the planet thriving in a utopian post-human future, or what she terms an "optimistic post-apocalypse." Howng places the viewer in an idealized or satirical imagined future to encourage reflection on current environmental conditions fostered by extractive global capitalism. Explorations in current philosophy, anthropology, and history, ground these investigations that interrogate Western concepts of nature, the human, and time. Through painting, sculpture, installation, and performance, her work speaks to issues of environmental, political, and social exploitation.
---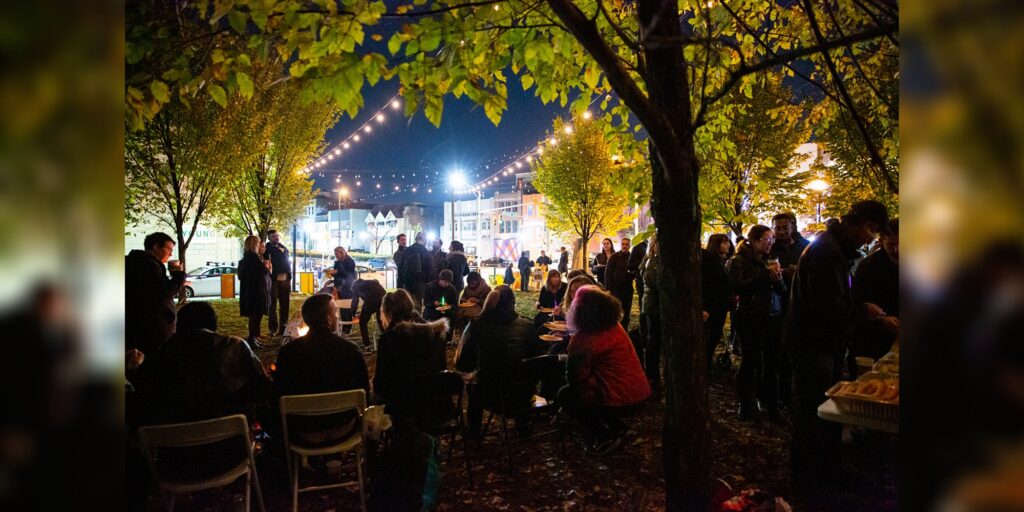 April 7 – 12:00 PM:  Merrell Hambleton, The Neighborhood Design Center
Merrell Hambleton leads Signal Station North, an NEA-funded project to plan for, invest in, and improve access to high-quality lighting in the public realm. As Program Manager for the Neighborhood Design Center, Merrell supports implementation and design-build services, including a forthcoming Designer-in-Residence program that will activate key green spaces in East Baltimore neighborhoods. Prior to her work with NDC, Merrell produced pathbreaking public art projects with NY-based nonprofit Creative Time and artist Stephen Powers. She has a dual MA in Social Design and Critical Studies from MICA and BA in History from Columbia University.
---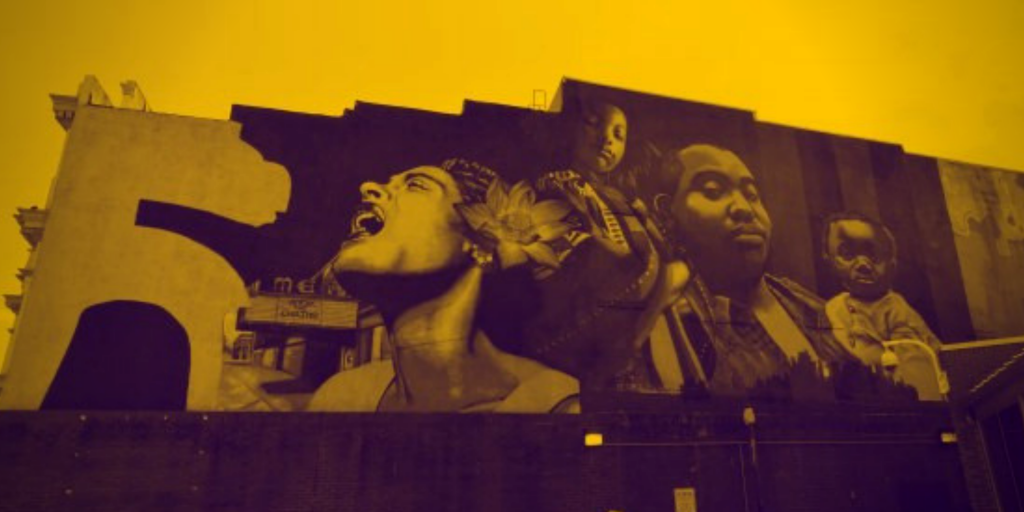 Celebrating Culture and History Of Baltimore Through The Evolution of Space
April 28 – 12:00 PM: Chris Ryer & Tamara Woods, Baltimore City Planning Dept
Chris Ryer began working in community development over 30 years ago as an intern at the Baltimore Planning Department.  After ten years as a community planner with the Department, he moved to the non-profit sector where he worked for the Trust for Public Lands and a community-based organization in southwest Baltimore.
In 2002 he returned to the Baltimore Planning Department where he served as Chief of Comprehensive Planning and Deputy Director.  After a short period at the Maryland Department of Housing and Community Development, he served as the Director of the Southeast Community Development Corporation for over ten years before returning to the Planning Department as Director in 2019.
Tamara Woods has been with the Department of Planning since 2002. As a Planning, Redevelopment and Policy Administrator she combines her expertise in land use planning and neighborhood planning to work primarily on land use policy initiatives and regulatory writing, such as working extensively on the zoning code rewrite. In addition, she focuses on project development and management of large-scale or complex development efforts that are multi-phased and/or have high neighborhood transformation impacts.
---
Celebrate The Baltimore Buildings That Inspire You With
Building Love!

Let's Get Creative! As the 6th oldest chapter of the American Institute of Architects, AIA Baltimore celebrates its 150th birthday in 2021. In recognition of this milestone, the AIA Baltimore and BAF Lecture Series Committee announce an invitation to submit a token of your love for Baltimore architecture. The goals of Building Love are to reflect on the built environment and values manifested in a building or space and to create a discourse among design professions and the public about qualities that make a building or space successful. This call for entries is free and open to the public, but limited to one entry per person.
How To Participate: Create one letter, poem, sketch or other creation of your favorite building or place in Baltimore in the format of a 4×6 postcard that will then be digitally collected. The submission should be original work and produced specifically for this. The postcard format below should be printed and cut out, with the submission created in the space it provides. The submission should describe the subject and why it is beloved in a visual or written way.
Deadline For Submissions: May 31, 2021
Follow BAF on  Instagram and see all of our submissions by searching the hashtag #AIABALT150BUILDINGLOVE
Don't have social media? Email us your submission at admin@aiabalt.com
Thank You To Our Generous Sponsors!
Major Sponsor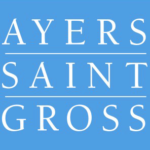 Supporting Sponsor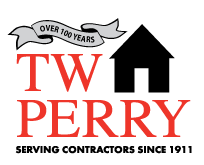 Capitol Sponsor
Corinthian Sponsor
Ionic Sponsor
APA Maryland
American Cedar & Millwork
Ames & Gough
Budova Engineering
Craig Gaulden Davis Architects
DoubleEdge Design
Hope Furrer Associates
Morabito Consultants
Moseley Architects
Pella Mid-Atlantic
Plano Coudon
Quinn Evans
Southway Builders
Suzanne Frasier, FAIA
T3XTURE
Ziger|Snead
This project was made possible by a grant from Maryland Humanities, with funding received from the Maryland Historical Trust in the Maryland Department of Planning. Maryland Humanities' Grants Program is also supported by the National Endowment for the Humanities and private funders. Any views, findings, conclusions, or recommendations expressed in the Spring Lecture Series do not necessarily represent those of Maryland Humanities, Maryland Historical Trust, Maryland Department of Planning, or National Endowment for the Humanities.

Become A Lecture Series Sponsor!
By sponsoring this long-standing program for Baltimore's design community and the public, your company will distinguish itself in a competitive marketplace. Each lecture draws an audience of 200-300 design and construction professionals and architecture enthusiasts. As a contributor to the 2021 Lecture Series, your company will be recognized in all of our promotional materials sent to an extensive network of industry and design professionals connected to the AIA and to architecture and design fans who support the BAF. Sponsorship includes regular recognition in our email promotions that reach over 8,000 people. We encourage you and your company members to attend the lectures and participate in the dialogue, and apply the lessons learned from our experienced speakers to your work in the Baltimore region.
If you have given to our series in the past, we thank you for your generosity and hope that you consider our series worthy of continued support this year. If you are new to the AIA Baltimore community and Lecture Series, we ask that you consider becoming a new sponsor for our event. Thank you for your support!
Sponsorship Levels: All supporters will receive recognition on the event's postcard and poster, in the AIA Baltimore & BAF online newsletters, event websites, digital event program, and name recognition in the slideshow at the start of each lecture (6 in total).
Major Sponsor ($2,500): 
Logo recognition as Major Sponsor for lecture series promotional materials and websites
Full page program advertisement (4 7/8"W x 8"H) in lecture series program
Full individual PowerPoint slide during the start of each lecture
2 exclusive social media posts in March & April
Supporting Sponsor ($1,500)
Logo attached as a Supporting Sponsor for lecture series promotional materials and websites
Half page program advertisement (47/8"W x 3 ¾"H) in lecture series program
Full individual PowerPoint slide during the start of each lecture
1 Exclusive social media post in March
Capital Sponsor ($1,200)
Name attached as a Capital Sponsor for lecture series promotional materials and websites
Half page program advertisement (47/8"W x 3 ¾"H) in lecture series program
Full individual PowerPoint slide during the start of each lecture
Social media recognition (logo included with sponsors in general social e-blasts)
Corinthian Sponsor ($750)
Name attached as a Corinthian Sponsor for lecture series promotional materials and websites
Quarter Page Program Advertisement (2 ¼"W x3 ¾"H)
Full individual PowerPoint slide during the start of each lecture
Social media recognition (included with sponsors in general social e-blasts)
Ionic Sponsor ($500)
Name attached as an Ionic Sponsor for lecture series promotional materials and websites
Quarter Page Program Advertisement (2 ¼"W x3 ¾"H)
Listing in PowerPoint slide during the start of each lecture
Social media recognition (included with sponsors in general social e-blasts)
Doric Sponsor ($350)
Name attached as a Doric Sponsor for lecture series promotional materials and websites
Listing in PowerPoint slide during the start of each lecture
Social media recognition (included with sponsors in general social e-blasts)
Interested In Sponsorship?
Please contact Margaret Stella Melikian, Programs, Research and Publications Manager, at membership@aiabalt.com or 410-625-2585 x103.
_______________________________________________________________________________