Charles L. Carson was born in 1847, the son of David Carson, a well-known builder in Baltimore. Following a practical and mechanical education in active service under his father, including carpentry and general construction, he entered the architectural office of Thomas Dixon (1819-1886) about 1870.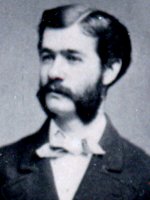 Dixon and Carson formed their partnership in the following year, a partnership which lasted but nine years, producing some of the finest and best known buildings in Baltimore of that period, including the Mount Vernon Place Methodist Church.
Charles L. Carson was one of the founding members of the Baltimore Chapter of the AIA in 1870.
We do not know why the Dixon and Carson partnership dissolved. Carson opened his own office in the old Central Savings Bank Building at Charles and Lexington Streets in 1880, a building which housed several architectural offices including George A. Frederick, George Archer, J. A. & W. T. Wilson, and the offices of the Baltimore Chapter of the AIA. Carson received several of Baltimore's most prestigious commissions including the first Enoch Pratt Free Library in 1881, and its first six branches in ensuing years, several buildings for the new Johns Hopkins University when it was downtown in the Eutaw Street neighborhood, and from 1897, he was the Supervising Architect for McKim, Mead & White for the construction of the new First Methodist church now known as the Lovely Lane United Methodist Church. He designed the adjacent Goucher Hall for Goucher College in 1888.
His project list, as collected to date by the Historic Architects' Roundtable, includes nearly 150 other projects between 1880 and 1891 when he died at the untimely age of 44. These commissions were in the entire range of architectural commissions including residences (many in the northerly Mount Vernon district and on Eutaw Place), commercial, mercantile, religious, educational and institutional.
Charles L. Carson is buried, with his wife Annie (1850-1924), in Loudon Park Cemetery.
By Peter E. Kurtze