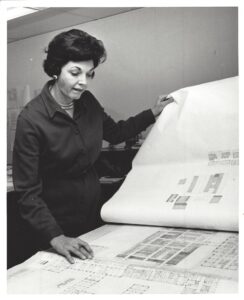 As a reviewing architect for the Department of Health, Education, and Welfare, she followed to strict rules for proposals: "We have a responsibility for the taxpayers' money,  not to save it and put it in a corner somewhere, but to make sure it is spent for research facilities."
Minneapolis Tribune, Sept. 6, 1966
Mary Jack Craigo grew up challenging social norms in pursuing her passion for architecture. Her high school's exclusion of girls from mechanical drawing class did not stop her from drawing home designs for her neighbors throughout her teenage years. Though professors discouraged her from choosing architecture as a major, she graduated from the University of Minnesota with a Bachelor of Architecture. After graduation, Craigo went to work at the Annapolis yacht yard and fell in love with the Navy. She enlisted the following year in WAVES where she held the rank of Ensign. Craigo served as administrative engineer for patrol craft with the Bureau of Ships, specializing in adapting PT boats for allied navies during World War II. She could be found riding up and down the Chesapeake Bay testing her designs.
By 1955, Craigo had settled in Bethesda with her husband and family and started working at the National Institutes of Health (NIH)—the only woman in the Architectural Engineering Design Branch. In 1964, she joined NIH's Division of Research Facilities and Resources. Craigo was the lone woman architect in the vast Health, Education, and Welfare Department throughout the 1960s. Over the course of her career, Craigo traveled to most of the major U.S. research universities helping to design medical facilities and laboratories funded by the National Cancer Institute.
Locally, she oversaw the construction of the Lister Hill National Center for Biomedical Communication and the Clinical Center Ambulatory Care Research Facility on the NIH's Bethesda campus. In 1979, she was recognized with the NIH's Merit Award for her considerable contributions to advancing the division's mission. Before retiring from Civil Service in 1983, Craigo balanced the demands of her career with raising two daughters and a son. Her legacy continues with her son Steade Craigo—a Fellow of the American Institute of Architects in Sacramento, CA.