Opening Reception and Book Signing
April 5, 2018 | 5:00 pm | AIA Baltimore Architects Bookstore, 11 1/2 W. Chase St., Baltimore, MD 21201
Free! REGISTER NOW
5:00 – 6:00 pm – Reception
6:00 – 7:00 pm –  Columbia, Maryland 50th Anniversary History Presentation with Josh Olsen and Robert Tennenbaum, FAIA
On view April 5 – May 24
Each city has its own unique footprint on Earth. City footprints are expressed as city maps, which are abstractions of reality. I am fascinated that every city on earth is unique, each shaped over time by ever changing complex events. I am fascinated by the wide variety of unique organic and geometric shapes that city maps and aerial views display. I paint what I know about the city as an architect and my feelings about the city as an artist. As I paint a city I express the city's essence.
About the Artist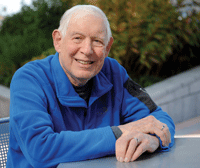 Robert Tennenbaum, FAIA, AICP served as the chief architect/planner for the Rouse Company where he oversaw the planning of Columbia, Maryland. Tennenbaurm was also involved in the redevelopment of Downtown Baltimore and managed the planning, design and development of University of Maryland's Downtown Baltimore Campus. Tennenbaum was born in Vienna and grew up in New York City. He received a Master of City Planning from Yale and a Bachelor of Architecture from the Pratt Institute. Tennenbaum recenty editied the book Columbia Maryland, a Fifty Year Retrospective on the Making of a Model City.