It's been an eventful year at AIA Baltimore. Early in 2018, AIA Baltimore welcomed Membership and Sponsorship Associate Margaret Stella. In addition to satisfying the day to day needs of members and sponsors, Margaret has worked closely with the Allied Members, Design Awards, Golf committees, building upon AIA Baltimore's programs such as the Excellence in Design Awards Celebration, Celebrity Chef Night, and the AIA and BAF Golf Outings.
This fall, AIA Baltimore adopted an updated Harassment Policy designed to prevent sexual and other types of harassment within AIA Baltimore, and to provide for corrective action as appropriate. The new policy comes during a year of sustained focus on issues of equity in the workplace. During the AIA Convention, President-Elect Suzanne Frasier, FAIA, led testimony in support of Resolution 18-3 "Diversity Pipeline and National Recognition" while the AIA Baltimore Equity Committee organized a three part series exploring implicit bias in the workplace and solutions for reducing it. AIA Baltimore Fellows across the chapter have also signed on to a commitment to advocate for workplaces where harassment will not be tolerated.
2019 promises some very exciting developments for AIA Baltimore and our member firms. We are working to launch the Baltimore Center for Architecture and Design to serve as the new headquarters for AIA Baltimore and the Baltimore Architecture Foundation (BAF) in conjunction with allied A/E/C organizations to offer even higher visibility and impact for the design profession!
The Baltimore Center for Architecture and Design is envisioned as a forum to convene and foster dialogue, learning, and advocacy about architecture, design and the built environment. The center will engage architecture's role in sustainability, resiliency, health, equity, education, and the prosperous future of the Baltimore region. This year's board of directors, led by 2018 President Ann Powell, AIA, worked hard to formulate a vision and plan for the center that fulfills the chapters missions and growing needs.
Below are some 2018 highlights from AIA Baltimore committees and members. We look forward to seeing you in the new year!
2018 AIA Baltimore Excellence in Design Awards Celebration

The 2018 AIA Baltimore Excellence in Design Awards were held at Design Award winning Center Stage where the A/E/C community gathered to honor the based of Baltimore based-design. The Grand Design Award went to Morgan State University Earl G. Graves School of Business & Management completed by Executive Architect Ayers Saint Gross, Design Architect Kohn Pedersen Fox and Associate Architect KPN Architects, Inc. 2018 marked the inaugural Social Equity Design Award created in collaboration with the Neighborhood Design Center. It is one of the first AIA awards in the country that specifically recognizes community-driven projects that promote social equity. This year's winner was the Dorothy I. Height Elementary School designed by Cho Benn Holback + Associates, a Quinn Evans Company.
Congratulations to all this year's Design Award winners!
AIA Baltimore Excellence in Design Awards Traveling Exhibit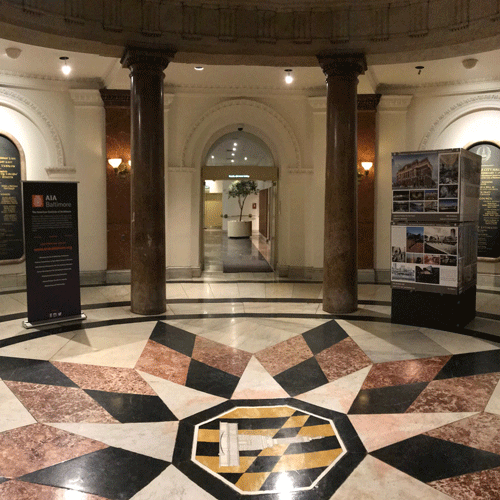 Each year after the Design Awards ceremony, presentation boards featuring the winning projects embark on traveling exhibit to several venues around the city. This year the exhibit made stops at the Dolphin Design Center, MICA; Morgan State School of Architecture + Planning; Baltimore City Hall Rotunda during National Architecture Week in April, as well as AIA Baltimore chapter House.
Allied Members Committee

AIA Baltimore's Allied members are involved in all the chapter's committees and programs, but none more so than Celebrity Chef Night—a major fundraiser for Baltimore Architecture Foundation scholarships and programs. AIA Baltimore architect members and local industry professionals took their design skills to the culinary world in a competition to make the most delicious edible creations. The program raised over $5,000 for BAF scholarships for college students studying architecture. Funds also went to the Future Architects Resources/Kids in Design outreach and education programs for underseved middle and high school students to encourage career opportunities in architecture, design, and construction.
Committee on Architecture for Education (CAE)

The Committee on Architecture for Education (CAE) focused its efforts on bringing architects and educators together to discuss timely topics in school design, including school security, teaching pedagogies, multi-use spaces and the community, and special education. Next year, the committee plans to build upon its 2018 Educator + Architect Roundtable and continue to raise awareness about the vitally important role design plays in learning environments.
Committee on the Environment | Resiliency (COTE | R)

COTE | R organized a variety of programs relating to timely topics in sustainability and resiliency, from a presentation on Eco Districts to a tour of a passive house retrofit of a suburban home undertaken by owners Carri Beer, AIA and Michael Hindle. An annual highlight is the Urban Ride, this year done in collaboration with Blue Water Baltimore with a focus on stormwater management in South Baltimore.
COTE | R's advocacy focused on the Complete Streets bill sponsored by Councilman Ryan Dorsey with Bikemore that was making its way to the city council. COTE | R drafted a letter in support of the bill that was signed off by the AIA Baltimore board, making AIA Baltimore a member of a diverse coalition of organizations advocating for a complete streets approach to improvements in Baltimore. The bill passed into law this fall.
Emerging Professionals

The Emerging Professionals Committee continues to refine its programs and resources for achieving licensure as the ARE fully transitions to 5.0. The committee has also focused on mentorship and career development with programs like Fun with the Fellows and the Mentorship Kick-Off event that link professionals at different stages of their careers. The committee also collaborated with the Morgan State University School of Architecture + Planning and helped to organize a showcase of graduate student final projects at AIA Baltimore that brought together students and professional architects. Another highlight was a construction tour of the Langsdale Library at the University of Baltimore.
The Emerging Professionals worked closely with other AIA Baltimore and BAF committees, such as designing the 3D-printed trophies for Celebrity Chef Night and organizing the Doors Open Baltimore Instagram Photo Contest.
CivicLAB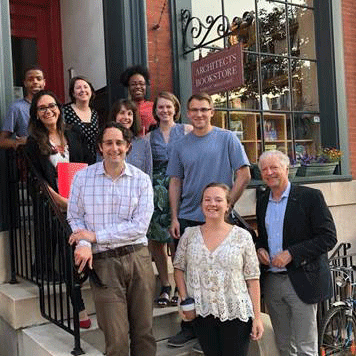 CivicLAB continued in 2018, providing young architects with the skills to become citizen architects through a series of presentations focusing on advocacy, leadership skills and pressing issues in the profession. Seven members made up the Class of 2018, bringing the total number of CivicLAB graduates over the past six years to over forty architects, designers and students of architecture.
Equity Committee

The Equity Committee made Implicit Bias its central theme in 2018 and organized a series of presentations and workshops that introduced attendees to implicit bias and shared strategies for reducing it in the workplace. Committee members were also involved in crafting the criteria for the Social Equity Design Award, and participated in the Mentorship Kick-Off event with the Emerging Professionals Committee.
Next year, the committee plans to continue with its focus on implicit bias and programs addressing issues faced by women and minorities in the profession.
AIA Baltimore Fellows

AIA Baltimore's Fellows and chapter leaders gathered for the Fifth Annual AIA Baltimore & BAF Fellows Dinner to celebrate the elevation of Steve Ziger, FAIA, to the AIA College of Fellows, while raising $5,000 for the AIA Baltimore/BAF Fellows Leadership Award. The award supports BSAED students at Morgan State's School of Architecture + Planning with the purpose of fostering the next generation of leaders in the profession. Recent awardees—Brian Helfer, Jr., Sumayyah Raji, and Ginkachi Eburuoh—were honored at the dinner.
The dinner featured guest speaker, Marshall Purnell, FAIA, former president of the American Institute of Architects and the National Organization of Minority Architects, and principal of Devrouax & Purnell Architects/Planners for 35 years.
Future Architects Resources (FAR)/Kids in Design

The FAR committee continued to bring architecture and design into K-12 classrooms through its participation in career and STEM fairs, family-oriented workshops, and the Adopt-A-School program. During Doors Open Baltimore, the FAR committee collaborated with the Baltimore Museum of Industry on an architectural workshop for children.
The committee honored four projects with 2018 FAR Scholarship Awards, providing scholarships to talented community college, undergraduate, and graduate students pursuing architecture degrees. 2018 marked the fifth year of the program.
AIA Baltimore Golf Outing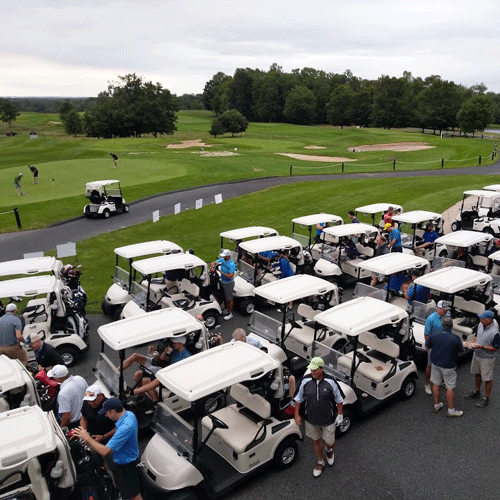 On September 21, AIA Baltimore members and friends hit the links for the 31st year for the Annual Golf Outing. 80 golfers played at the Pete Dye-designed, Bulle Rock Golf Course, an 18-hole PGA course in a friendly tournament followed by a BBQ lunch at the clubhouse.
Justin Klein's "Klein Drive Fundraiser"—where Justin bets he can beat his opponent's drive—raised $635 for the AIA Baltimore Emerging Professional Scholarship.
Health & Wellness Design Committee

The AIA Baltimore Health & Wellness Design committee began the year with its third annual Good Health = Good Design showcase—an opportunity for all industry leaders to present work that, in one way or another, speaks to healthy design. This year's projects ranged from city parks that host concerts, exercise classes, and community building activities, to the design of a local bicycle shop where locals can rent, purchase, and repair their bicycles as a healthy way to commute and exercise around town.
In the spring, the committee partnered with the Morgan State University School of Architecture + Planning on a symposium on health and urban vacancy in Baltimore, part of an annual series founded by Professor of Architecture Dr. Mohammad Gharipour. The speakers included five academic and professionals from various disciplines including public health, urban planning, architecture, and historic preservation.
Historic Resources Committee (HRC)

The AIA Baltimore Historic Resources committee solidified its partnership with the Baltimore Architecture Foundation tour committee to put together a great series of historic building tours, including  2Hopkins and the Hilton Mansion. Committee members also participated in Advocacy Day in Annapolis alongside AIA Maryland and Preservation Maryland to advocate for pressing statewide preservation issues such as historic tax credits. The committee also held its meetings at historic locations like the Sagamore Pendry Hotel, Lord Baltimore Hotel, and Gunther & Co.
Advocacy Day in Annapolis

AIA Baltimore was proud to partner with AIA Maryland and Preservation Maryland on Advocacy Day in Annapolis, where architects and allies met with elected officials to discuss our legislative priorities, including those shared with Preservation Maryland. Over 100 advocates met with elected leaders in the state house and at the legislative lunch held at the AIA Maryland headquarters.
2018 AIA Baltimore/BAF Spring Lecture Series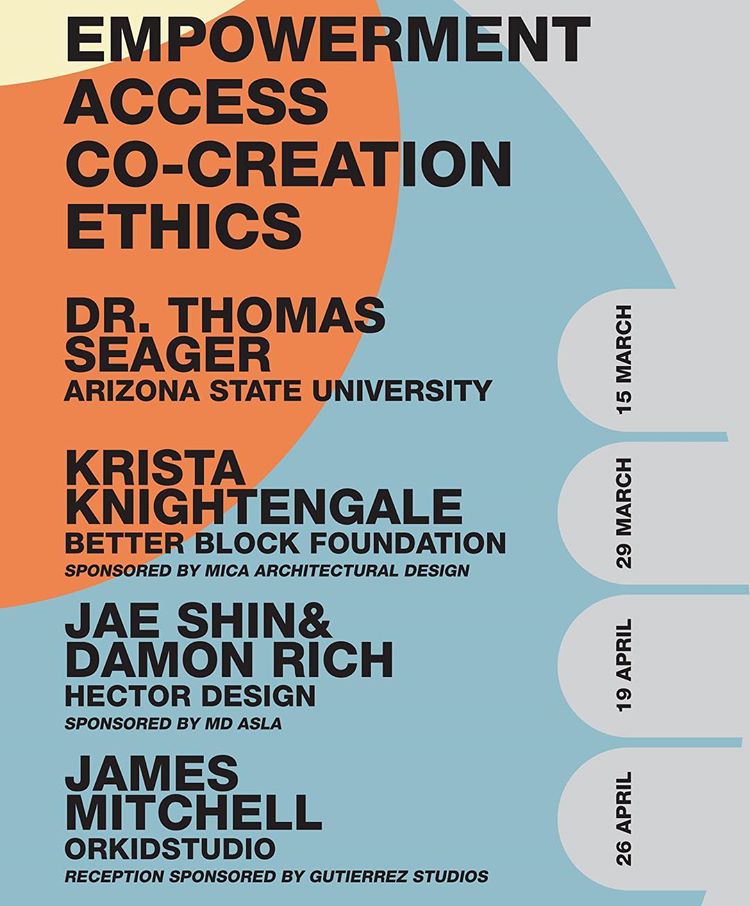 The Spring Lecture Series celebrated its 40th anniversary through the theme of Empowerment, Access, Co-Creation and Ethics—exploring how design can be a vital and powerful catalyst for social change. Globally recognized scholars and designers spoke to each part of the theme to audiences of hundreds of attendees at the MICA Brown Center.
Find recordings of the lectures on the Spring Lecture Series Vimeo page.
Practice Management Committee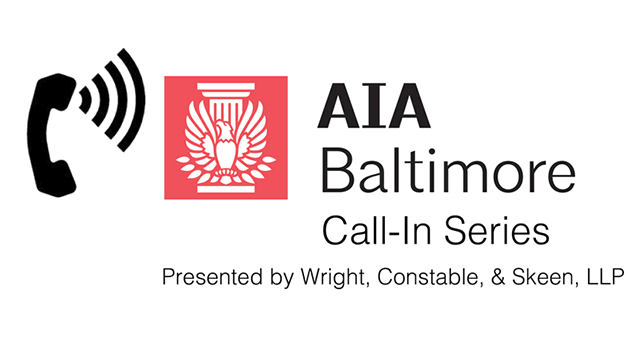 The Practice Management Committee organized a variety of programs focusing on topic areas such as marketing, legal and HR issues, tax credit opportunities, and insurance. Their most recent lunchtime call in series, held in partnership with Wright Constable & Skeen, featured a 30 minute talk with Art Gensler, FAIA. The committee continued with its bi-monthly book club featuring books on leadership and management skills.
Urban Design Committee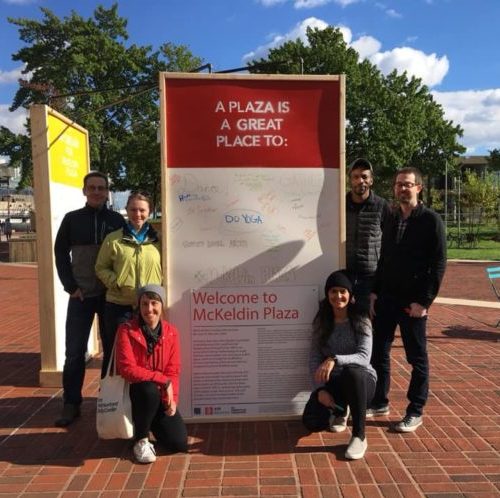 The Urban Design Committee (UDC) turned its focus to several advocacy initiatives in Baltimore City, including the McKeldin Plaza, and working with Rails-To-Trails on creating a connected trail system. With the help of an AIA National grant, the committee worked on collecting data about how people are using the McKeldin Plaza site post-demolition, and created an interactive installation onsite where visitors could write about what they would like to see at the site. UDC presented its findings at a D Conversation in December.
Member Milestones
Welcome 2019 AIA Baltimore President
Welcome new 2019 AIA Baltimore Board Directors and Officers
Director Jonathan Cartwright, Assoc. AIA
Director Lori Lessem, AIA
Director Madhuri Subramaniam, AIA
Allied Professional (Shadow) Shanté Fields
2019 AIA Maryland Directors Representing AIA Baltimore
Director Joel Fidler, AIA, 2018 President
Director Scott Walters, AIA
Director Adam Read, AIA
Director Elizabeth Nook, AIA
Director: Ash Belgi, AIA
Director (SGN Representative) Chris Parts, AIA
Alternate Director Dan Bailey, AIA
AIA Middle Atlantic Region Strategic Council Representatives
Tom Liebel, FAIA
Brenden Frederick, AIA
Congratulations to new AIA Baltimore Fellow
Congratulations to our newly licensed AIA Members
Ronald Batcher Jr., AIA
Ryan Behneman, AIA
Andrew Bennett, AIA
Andrew Beyea, AIA
Michael Bollino, AIA
Duane Carter, AIA
Kelly Danz, AIA
Amy Findley, AIA
David Gavin, AIA
Michael Grabenstein, AIA
Bradley Holder, AIA
Amanda Hughes, AIA
Kacey Huntington, AIA
Agnieszka Kardasz, AIA
Constance Kumor, AIA
Kathleen Lane, AIA
Patrick Lundberg, AIA
Angela Maxwell, AIA
Allison McElheny, AIA
Laurence Oleniak, AIA
Monica Pascatore, AIA
Ryan Pietrowski, AIA
Veronica Plischke, AIA
Joel Plitt, AIA
Beresford Pratt, AIA
Aarti Rane, AIA
Melanie Ray, AIA
Meredith Shamer, AIA
Timothy Stapleton, AIA
Amanda Strawitch, AIA
Mark Wendell, AIA
Nan Yu, AIA
Thank you to outgoing AIA Baltimore Board Members
Past President Sharon Day, AIA
Director Joe Corson
Director John Padussis, AIA
Director Melanie Ray, AIA