After a rigorous search process and design competition, AIA Baltimore selected Quinn Evans to design the Center, located at the retail level of One Charles Center adjacent to Center Plaza. The location will make our chapter, along with the Baltimore Architecture Foundation, more publicly accessible and centrally located to our members.
The Center for Architecture and Design will be our new headquarters, and will provide collaborative administrative and program space for allied professional industry, advocacy, and education organizations, including Baltimore Heritage, the Baltimore Chapter of the National Organization of Minority Architects (Bmore NOMA), the Baltimore Chapter of the Urban Land Institute (ULI Baltimore), the Maryland Chapter of the American Society of Landscape Architects (ASLA Maryland), the Maryland Chapter of the American Planning Association (APA Maryland), and the Charles Street Development Corporation. The Center will have flexible programming and gallery space, and a small retail space for books on Baltimore architecture.
The design by Quinn Evans will fulfill our vision to make the Center for Architecture and Design serve as a high profile and visible space to showcase the important role of architects and design, and as a dynamic hub to engage professionals, students, and the public. It will represent the forefront of design thinking and be a model for sustainable design best practices. We look forward to seeing you at our new home.
AIA Baltimore welcomes new staff member Mehr Pastakia. In her role as Administrative and Events Associate, Mehr supports both AIA Baltimore and ULI Baltimore. Mehr has a passion for creating spaces that promote and enhance people's health and well-being, and has already become an invaluable member of our team.
Thank you to our Board of Directors and staff, and all the work of our members to pave the way for this exciting period of growth. Special thanks to 2019 President Suzanne Frasier, FAIA and the tireless work of our Chapter House Task Group.
And welcome 2020 AIA Baltimore President Scott Walters, AIA!
Below are some 2019 highlights from AIA Baltimore committees and members. We look forward to seeing you in the new year!
Excellence in Design Awards Celebration
The Baltimore architecture community gathered at the Columbus Center on October 18 to celebrate the AIA Baltimore and BAF Excellence in Design Award winners.
Congratulations to all the winners and thank you to all who attended for making it a memorable night. Special thanks to Melissa Bauld Rome, AIA of Rome Office, who served as chair of this year's New Orleans-based jury and came to Baltimore to host the awards program. Thank you to Council President Brandon Scott for speaking during the awards ceremony, and to Councilman Leon Pinkett for coming and supporting design excellence in Baltimore's 7th District. Thank you to all the student volunteers from the Morgan State University School of Architecture + Planning for helping out during the event. Finally, thank you to our event and annual sponsors.
AIA Baltimore Excellence in Design Awards Traveling Exhibit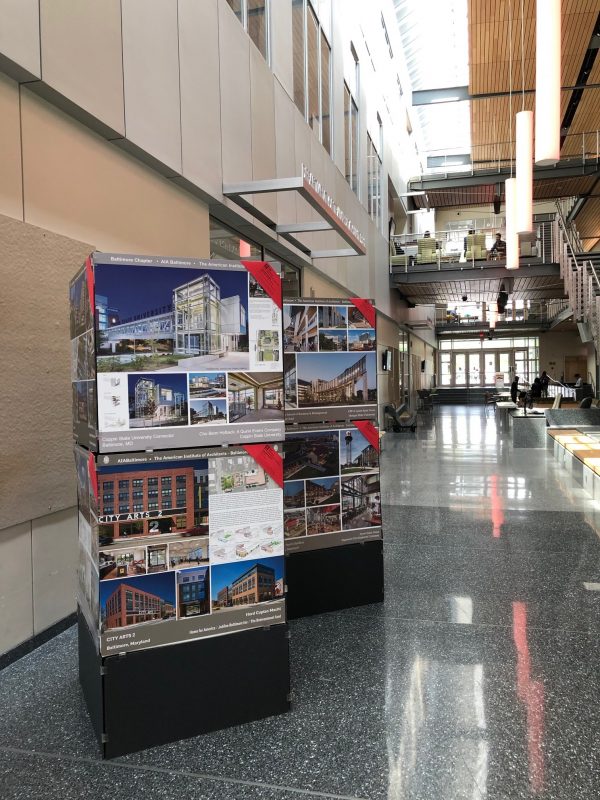 Each year after the Excellence in Design Awards Celebration, presentation boards featuring the winning projects embark on traveling exhibit to several venues around the city. These winning projects were prominently displayed in the Baltimore City Hall Rotunda during National Architecture Week. The exhibit also traveled to the Dolphin Design Center at MICA, and the Morgan State School of Architecture + Planning. The traveling exhibit also included entries to the Spring Lecture Series Edge Harbor and City design competition.
Allied Members Committee
AIA Baltimore's Allied Members are involved in all AIA Baltimore committees and programs, but none more so than Celebrity Chef Night. On April 23, architects and A/E/C professionals squared off in a culinary design competition to make the best appetizers, main dishes, and desserts. Dozens of attendees gathered to sample the culinary creations, bid on auction items, and mingle. Proceeds of the event were donated to AIA Baltimore and Baltimore Architecture Foundation scholarship programs for students of architecture at Morgan State University, and Maryland community colleges and universities, and to support major BAF programs and initiatives.
In collaboration with the BAF and Waterfront Partnership, City Sand is being revived next year to celebrate the 40th Anniversary of Harbor Place. City Sand enlivens the Inner Harbor with a sand structure design and build competition in honor of Baltimore's past, present and future.
Committee on Architecture for Education (CAE)
The Committee on Architecture for Education (CAE) selected two focus areas for the year: special education and multi-use buildings. They organized a tour of the Forbush School—a transformation of a warehouse into a private school that serves children with Autism—and a symposium on design for special education. The committee also collaborated with the Equity Committee and the Neighborhood Design Center on a D Conversation that looked at equitable outcomes and lessons learned from the 21st Century Schools program.
CAE has been monitoring and providing expertise on statewide advocacy issues such as procurement, green building standards, and classroom size.
Committee on the Environment | Resiliency (COTE | R)
COTE | R organized a variety of events in 2019 relating to sustainability and resiliency, including a tour of a house in Fells Point designed to meet Passive House standards, a presentation on resilience assessment for multifamily housing, a how-to-guide for designing Net Zero buildings, an overview of the COTE Top Ten Toolkit, and a presentation on the use of embodied carbon prioritization. An annual highlight is the bike ride, this year done in collaboration with Rails-to-Trails highlighting the Baltimore Greenway network of trails.
COTE | R's advocacy included voicing support for the Complete Streets law sponsored by Councilman Ryan Dorsey. COTE | R drafted a letter of continued support of the law that was signed by AIA Baltimore showing our support for a complete streets approach to improvements in Baltimore. COTE I R also wrote a letter in support of maintaining the high standards of the Maryland Green Building Program for schools.
Emerging Professionals
The Emerging Professionals Committee focused much of its efforts this year on its mission to help more members achieve licensure. They organized the Achieving Registration Together (ART) sessions along with a presentation by Michael Riscica, AIA, on how to pass the ARE, and later hosted the 17th annual Hands On Masonry Workshop. A highlight was Fun with the Fellows featuring recent AIA Baltimore Fellow Steve Ziger, FAIA. This year's Emerging Professionals A'19 Scholarship went to Sam Lynch, Assoc. AIA, co-chair of the AIA Baltimore Urban Design Committee (UDC).
The Emerging Professionals committee continued to foster AIA Baltimore committee collaboration, including designing the custom laser cut trophies for Celebrity Chef Night and organizing the Doors Open Baltimore Instagram Photo Contest. The committee also continued and its partnership with the Equity Committee to organize the Annual Mentorship Kick-Off. New this year was collaborating with the BAF to organize the Lawn Party as part of the annual Golf Outing.
CivicLAB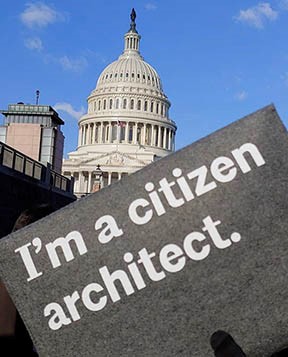 CicivLAB provides young architects with the skills to become citizen architects through a series of presentations focusing on advocacy, leadership skills and pressing issues in the profession. Members had the opportunity to travel to Washington DC to take part in AIA Grassroots, the Institute's annual leadership summit. The group also join AIA members from across the state for meetings with members of Congress and Congressional staff.
The Class of 2019 brings the total number of CivicLAB graduates to over 50 since it started seven years ago.
Equity Committee
The Equity Committee made an effort to collaborate with various AIA Baltimore committees by organizing multiple programs focused on equity in the design community. These programs included the annual Mentorship Roundtable in collaboration with the Emerging Professionals Committee, Design Conversation #100: Schools that Build Community in collaboration with the Committee for Architecture of Education, and the Workplace Culture Roundtable in collaboration with the Practice Management Committee. In addition, Equity Committee members recently collaborated with Bmore NOMA on a happy hour to discuss equity in the workplace.
Next year, the committee plans to continue collaborating with other AIA Baltimore committees on programming addressing equity challenges faced by women and minorities in the profession.
Practice Management Committee
The Practice Management Committee organized a variety of programs focusing on topic areas such as intellectual property, risk management, and tax credits. The committee organized a panel on Integrated Delivery that included a workshop comparing it to traditional Design-Bid-Build. The Practice Management Committee collaborated with the Equity Committee on a presentation and workshop about developing healthy and productive workplace culture informed by the AIA Guides to Equitable Practice.
AIA Baltimore Fellows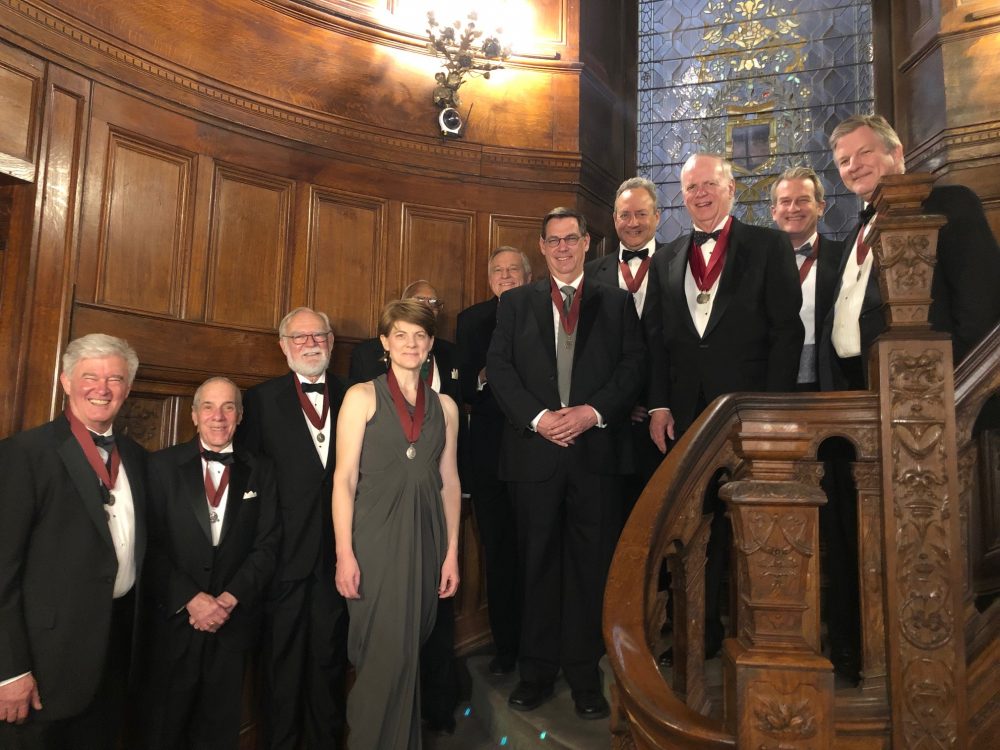 On Friday, March 29, AIA Baltimore's Fellows held the 6th Annual AIA Baltimore/BAF Fellows Scholarship Dinner at the historic Engineers Club. Befitting the evening's theme of Leadership, the event celebrated guest speakers Leon Bridges, FAIA, NOMA, and Walter Schamu, FAIA, who offered reflections and reminiscences of their distinguished careers in Baltimore.
Co-chaired by Suzanne Frasier, FAIA and Tom Liebel, FAIA, the event raised over $5,500 for the BAF/Fellows Leadership Award Scholarship to support undergraduate students at the School of Architecture + Planning at Morgan State University. Scholarships went to Courtney Souvenir, Brian Helfer, and Sumayyah Raji.
Future Architects Resources (FAR)/Kids in Design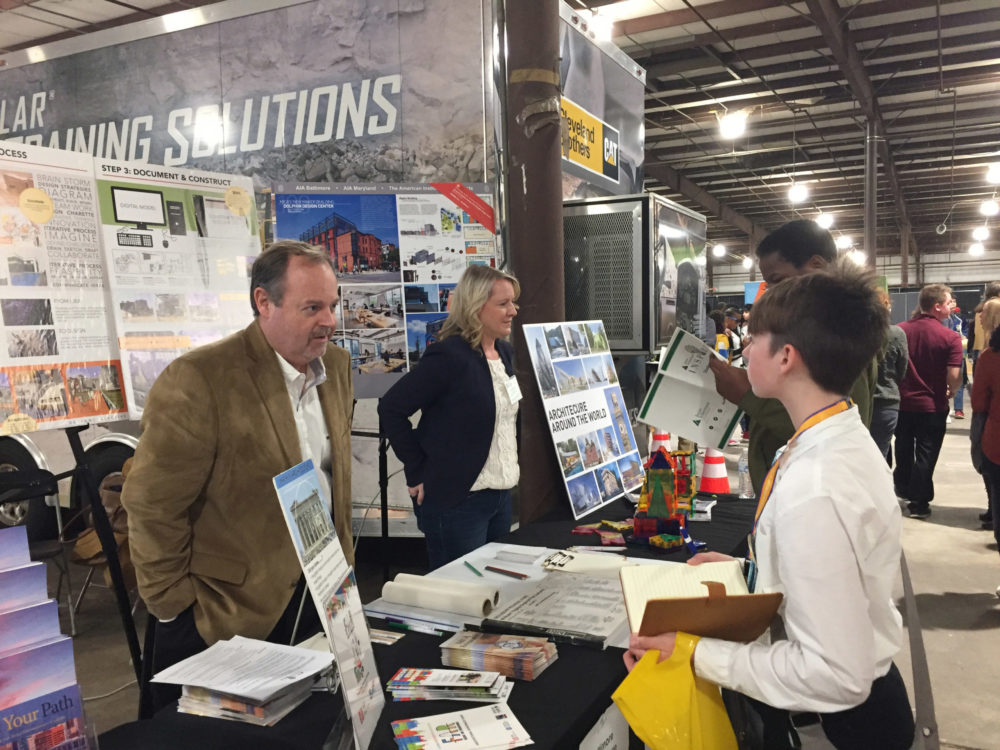 The FAR committee continued to bring architecture and design into K-12 classrooms through its participation in career and STEM fairs, family-oriented workshops, and the Adopt-A-School program. During Doors Open Baltimore, the FAR committee collaborated with the Baltimore Museum of Industry on an architectural workshop for children. As part of Adopt-A-School, Design Collective designed a lesson of four classes where Patterson Park Public Charter School students envisioned a new community center in Patterson Park, taking the project from research and site analysis through site design. The students also toured Pierce's Park.
The committee gave four FAR Scholarship Awards to community college and graduate students pursuing architecture degrees. 2019 marked the sixth year of the program.
Health & Wellness Design Committee
The AIA Baltimore Health & Wellness Design Committee hosted the 4th annual Good Health = Good Design showcase, which is an opportunity for all industry leaders to present work that, in one way or another, speaks to healthy design. This event was held at the new MOI showroom in Baltimore where over 80 attendees gathered to share their unique projects, both built and unbuilt, with the audience.
Presenters highlighted each project's positive impact on health and wellness for individuals, communities, and more broadly, the environment.
Historic Resources Committee (HRC)
The Historic Resources Committee began the year at the Hotel Revival with a renovation tour and discussion with SM+P architects. This was quickly followed with a tour of the new construction addition to the Engineer's Club by Walter Schamu, FAIA—the 'S' of SM+P.
HRC was approached by the Neighborhood Design Center to assist in providing probono historic building reports for the McKim Free School and the Friends Meeting House, both Baltimore City Landmarks. The properties were surveyed and reports were drafted and issued. The Executive Summary included a prioritized plan to assist the board in renovation and refurbishment.
September brought the committee to C&H Restoration and Renovation and Thomas Brown, Woodwright shops in Remington for a tour and a discussion of their historic trades. During Baltimore Architecture Month, HRC assisted with the Doors Open Baltimore display case at the Baltimore Visitor Center, and staffing Doors Open sites. November's meeting was followed by a lecture by David Wright, FAIA, of GWWO, organized by APT DC, on historic American forts.
Capitol Hill Day in Washington DC
AIA Baltimore was proud to participate in Capitol Hill Day. Over 600 AIA members from around the nation convened at the Capitol. Members advocated for the use of energy efficient technologies to be part of renovation and retrofits to existing buildings. Members also advocated for the creation of a federal clearinghouse for school design best practices, and for making design services eligible for federal grand funding.
2019 AIA Baltimore/BAF Spring Lecture Series
The 41st Spring Lecture Series took the theme "Edge: Harbor and City." Local practitioners and globally recognized designers and scholars addressed "the edge"—where the land meets the water—from a variety of perspectives: health and ecology, resiliency in the face of climate change, and social equity. Inspired by the theme, AIA Baltimore organized a design competition with the architecture journal T3XTURE to envision the future of Baltimore's waterfront. Multi-disciplinary teams of local architects, landscape architects, and planners submitted designs addressing a variety of waterfront challenges including health and ecology, resiliency in the face of rising sea levels and powerful storms, and social equity. The entries were included as part of a traveling exhibit making stops at the Architects Bookstore, Baltimore Visitor Center, and the Baltimore Museum of Industry.
Urban Design Committee
The Urban Design Committee (UDC) continued its advocacy for various initiatives in Baltimore City including studying the McKeldin Plaza, and advocating for a connected trail system throughout Baltimore with the Rails-To-Trails Conservancy. UDC developed a short documentary for the AIA National Film Challenge about the ongoing McKeldin Plaza initiative. In June, UDC co-chair Sam Lynch presented the documentary and participated in a Blueprint for Better Communities panel discussion at the AIA National Convention. In August, the group was invited to present their work to the City's Department of Planning. Another dedicated sub-committee supported Rails-to-Trails in their effort to create a 35-mile network of urban trails that will one day link together the diverse neighborhoods, cultural amenities and outdoor resources of Baltimore City. In addition to design work, the group held two successful events to gather neighborhood input and raise awareness about the project. This work will continue into 2020 and beyond as the project continues to make progress.
AIA Baltimore/ BAF Gallery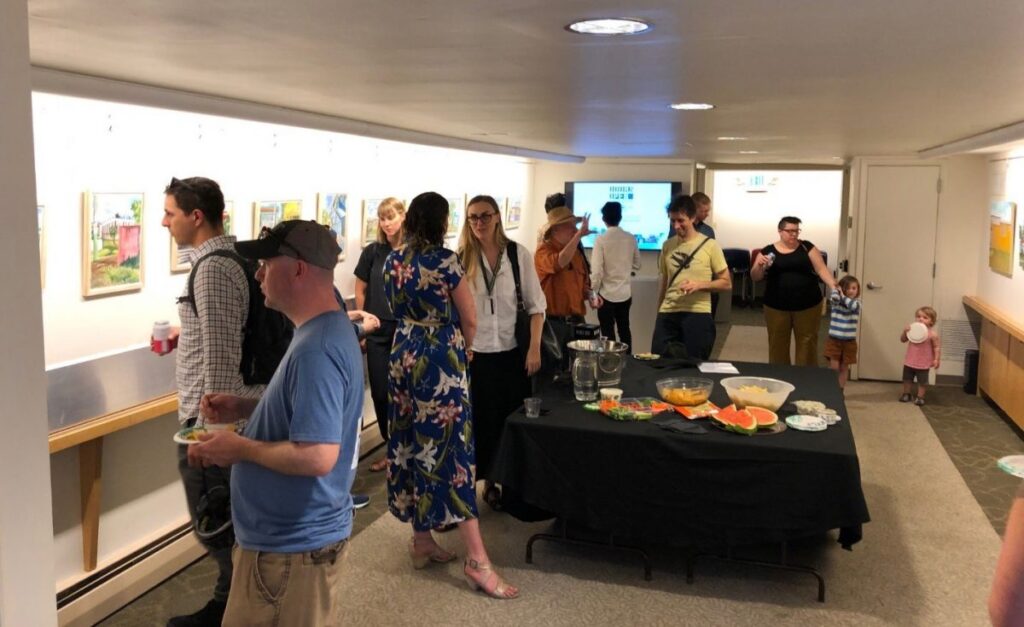 We had another successful season of art exhibitions at the chapter house bookstore and gallery. We are proud to showcase works of art by our members, as well as local artists whose artistic interest reveal a penchant for architecture and the built environment. Look for more exhibits next year as we expand into the new Center for Architecture and Design!
Welcome 2020 AIA Baltimore President
Welcome New 2020 AIA Baltimore Board Directors and Officers
Treasurer  Martina Reilly, AIA
Secretary Laura Wheaton, AIA
President-Elect Scott McGovern, AIA
Director Trey Shamer, AIA
Allied Professional (Shadow) Sandy Yellot
AIAS Representative Ryan Eubanks
AIAS Representative Rahmah Davis
2020 AIA Maryland Directors Representing AIA Baltimore
Director Scott McGovern, AIA
Director Elizabeth Nook, AIA
Director Ash Belgi, AIA
Director Rudy Schaar, AIA
Director Chris Parts, AIA
Alternate Director Dan Bailey, AIA
AIA Middle Atlantic Region Strategic Council Representatives
Tom Liebel, FAIA
Brenden Frederick, AIA
Thank You to Outgoing AIA Baltimore Board Members
Past President Ann Powell, AIA
Allied Member Liaison Natasha Kearney
AIAS Representative Ciera Jones
AIAS Representative Brian Helfer
Thank You to Outgoing Committee Chairs
Allied Professionals Co-Chair Jackie Browning
Emerging Professionals Co-Chair Rebecca Meyer, AIA
COTE | R Co-Chair Dustin Watson, AIA
Building Enclosure Council Co-Chair Dan McKelvey, AIA
Congratulations to Newly Licensed Members
Andrew S. Beres, AIA
John  G. Bernet, AIA
Karla Brent, AIA
David B. Ensor, AIA
Justin J. Femiano, AIA
Evan Greulich, AIA
James S. Knapp, Jr., AIA
Ryan McCloskey, AIA
Marie E. McKenna, AIA
Michael J. Molinari, AIA
Sewoong Moon, AIA
Forrest Popkin, AIA
Brian Prichard, AIA
Ashley Roe, AIA
Lisa S. Taylor Egan, AIA
Anthony J. Vischansky, AIA
Evan J. Wivell, AIA
Wenjia Wu, AIA
Erica L. Wunderlich, AIA
2019 New Allied Members
Akors
American Contracting
Douron
ECS Mid-Atlantic, LLC
Engineered Tax Services
Froehling & Robertson
McDonnell Consulting Group
Pella Mid Atlantic
Phoenix Noise & Vibrations
RMF Engineering
Reading Rock, Inc.
Simms Showers